Ladder Accidents
Ladder Accident Attorney Serving Coral Springs
Do not go up on this type of ladder without someone holding it.
Ladder accidents are a frequent consequence of working at construction and industrial sites in Florida, especially in Miami-Dade, Broward, and Palm Beach Counties, where there seem to be construction project going on non-stop, day and night.
---
Call our Coral Springs ladder accident lawyers at (954) 833-1440 or contact us online today!
---
According to a study by the National Institutes of Health, the majority of ladder-related injuries are fractures and injuries to the legs and feet. However, other more serious injuries such as brain damage and paralysis may occur as well.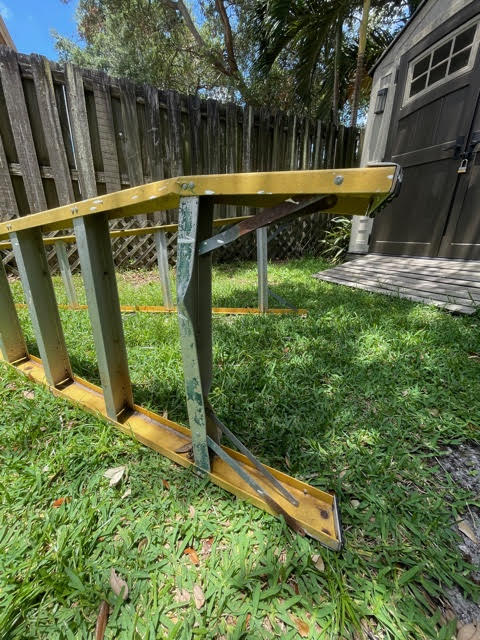 In many instances, persons involved in ladder accidents sustain serious injuries requiring hospitalization. The same NIH study mentioned above reports that more than two million ladder injuries occurred over a span of 16 years (from 1990 to 2005) resulting in emergency room visits.
In some cases, falls from ladders have even resulted in death. If you or a loved one have been injured in a ladder accident, contact our Coral Springs ladder accident attorneys for a free consultation.
Our firm takes on cases all throughout Florida, and we can handle your case review and evaluation over the phone or via e-mail or video chat, so you do not have to worry about leaving your home to communicate with us about your situation.
Preventing Workplace Ladder Accidents Through Training Employees
In order to prevent and/or reduce ladder accidents, the Occupational Safety and Health Administration (OSHA) has produced a series of ladder regulations that must be maintained by all employers requiring the use of a ladder.
Among the requirements, covered construction employers are obligated to provide training for any worker that uses a ladder. According to OSHA standard 1926.1060, the training requires that the employee be trained by a competent person about:
The nature of fall hazards in the work area
The correct procedures for erecting, maintaining, and disassembling the fall protection systems
The proper construction, use, placement, and care in handling of all ladders
The maximum intended load-carrying capacities of ladders
Regrettably, not every or employer whose employees regularly use ladders follows through with upholding important ladder safety standards. The result is that poor use of a ladder may result in an otherwise preventable injury or death.
Can Ladder Manufacturers be Liable For Defective Ladder Designs?
Ladder manufacturers may be liable for defective ladder designs. In addition to employers who fail to maintain adequate safety standards, another potential risk of using ladders is actually caused by the ladder manufacturers themselves. A defective design of a ladder can just as easily cause serious injury or death as can misuse of a perfectly functional ladder.
In cases where there is a flaw in the ladder design, the manufacturer could potentially be liable for injuries that are caused by the design defect of the ladder. This type of case is what is oftentimes referred to as a products liability lawsuit.
In these cases, the manufacturing company may be held liable for failing to produce a safe product, including ladders, that they introduce into the marketplace. Keller Industries Inc. is one example of a company that has been sued a number of times for manufacturing allegedly defective ladders.
But one important thing to keep in mind in ladder injury cases is that in Florida, if the product is more than 12 years old from the date of delivery to its first purchaser, you could potentially be barred from suing the manufacturer of a defective ladder by a rule called the statute of repose.
It's important to contact knowledgeable legal counsel to discuss complicated issues like the statute of repose if you were injured due to a fall from a ladder.
In addition to construction and industrial workplace ladder accidents, numerous ladder accidents happen in non-occupational settings, as well, such as at a person's home. Many times, these accidents are the result of defectively designed ladders which cause a person to fall from the ladder and suffer serious injury.
If you have any questions about a Florida ladder accident that left you or a loved one injured, contact the Coral Springs ladder accident attorneys in our office for a free consultation to discuss your legal options.
How To Avoid Ladder Injuries
When purchasing a ladder, always consult a reliable rating organization such as Consumer Reports to see which are the safest ladders. Also, check online to make sure that the ladder you are thinking about purchasing wasn't recalled by the manufacturer.
Additionally, people using ladders should always take precautionary measures to avoid ladder accidents. The following is a list of preventive measures provided by OSHA to reduce the risk of falling from a ladder:
Maintain three points of contact
Place the ladder on level footing
Always face the ladder
Secure the ladder by locking the metal braces at the center of the ladder
Don't overreach
Don't 'walk' the ladder
Experienced Ladder Accident Lawyers in South Florida
If you or somebody you know was the victim of a ladder accident, you may be entitled to file a claim if we can determine that another person or company was liable for your injuries. As ladder accident lawyers in Coral Springs, we are dedicated to providing you with our best legal advice pertaining to your accident that occurred in any part of Florida.
Our personal injury firm has over 40 years of experience handling ladder accident cases. Every personal injury case is unique and ladder cases are no exception. A good example is the case of one of our former clients, Mr. Ortiz, who was called for a job to pressure clean the roof of a private residence.
When he arrived, he noticed he had forgotten his ladder. The owner of the residence offered to lend Ortiz his ladder and Ortiz accepted. Ortiz used the ladder to work climb onto the roof of the residence; however, on his way down from the roof he fell and suffered serious injuries.
After the incident, Ortiz contacted our firm to represent him for the injuries he sustained. Upon investigation, we determined that the ladder Mr. Ortiz used was defective, and that the property owner was negligent in providing Mr. Ortiz with unsafe equipment to use.
The defendant homeowner tried to avoid liability on the grounds that he was not aware of the defective condition of the ladder, but we explained that the owner should have known the ladder was defective merely by looking at it (multiple parts of the ladder were clearly not functioning properly).
The court agreed with us and found the defendant homeowner could be deemed to be negligent for allowing our client to borrow the ladder. Our client ultimately received a substantial settlement for the injuries he sustained from the accident due to the homeowner's negligence.
---
Contact our office now at (954) 833-1440 for a free consultation. Our ladder accident lawyers in Coral Springs are ready to assist you or your loved one involved in a ladder accident that occurred anywhere in Florida.
---
Why Hire Our Firm? What You Can Expect From Us
Always Available for You

If you don't have a way of getting to our office, we will come to your home or hospital.

Board Certified Lawyer

We have the only active board certified civil trial lawyer in Northwest Broward County.

More Than 40 Years of Experience

We have a proven track record of success in accident cases over 4 decades.

Our Results Don't Lie

We've had more than 30 cases that have settled or resulted in jury verdicts of one million dollars or more.

No Fee If No Recovery

We work on a contingency fee, so we only get paid if you get paid.
Schedule Your Free Consultation Today! Contact Us Today