Slip and Fall
Slip and Fall Accident Lawyers in Coral Springs
We Help the Victims of Negligence
Margate, Lauderhill, Plantation, Coral Springs, and Pembroke Pines are just a small sampling of Broward County cities where we have handled slip and fall or trip and fall injury cases in South Florida. When people are at a restaurant for a nice evening dinner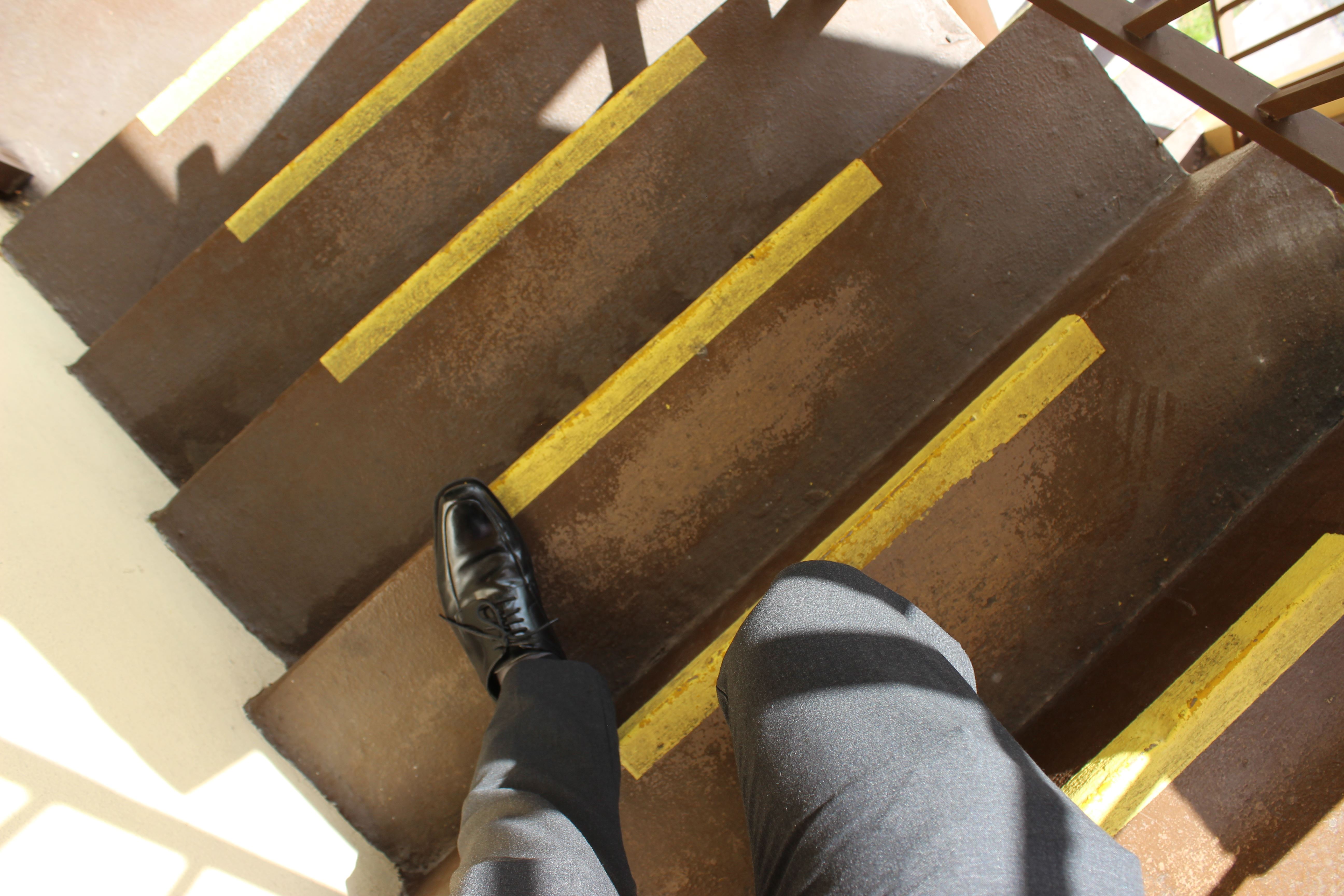 or they are shopping at the supermarket, the last thing they think of is being seriously injured due to a slip and fall or trip and fall accident.
However, slip and trip and fall accidents are not limited to those locations. Slip and fall accidents can happen anywhere, from walking from the restroom in a restaurant to slipping on water in a Publix or Wal-Mart.
Slip and fall or trip and fall accidents can happen because a property owner has failed to maintain their premises in a reasonably safe condition.
These failures can lead to serious and permanent injuries including:
Broken bones
Joint injuries
Neck and back injuries
And other injuries throughout the body
---
Have you suffered an injury due to negligence? Reach out to the Law Offices Cytryn & Velazquez, P.A. by calling (954) 833-1440 your free consultation with one of our skilled slip and fall accident attorneys.
---
Types of Fall Accidents
The terms slip and fall and trip and fall are sometimes used to describe the same type of accident. A slip and fall is a totally different event than a trip and fall.
The difference is:
A slip and fall occurs when one's foot (or feet) slips on a surface
A trip and fall usually occurs because there is something in the pathway that a person's foot catches on
Of course, there are other types of falls, such as somebody stepping into a pothole or something open in the ground that should be closed. One of the cases we have handled is a perfect example of this second scenario, where a 50-year-old marine mechanic was seriously injured after falling through an open hatch on a boat he was working on.
The hatch was only covered with a tarp, making the defendant boat owner negligent for not properly covering the hatch or warning about the danger. In that case, the defendant offered $90,000 before verdict, but the jury awarded a verdict of over $1.9 million.
Fatal Slip and Fall and Trip and Fall Accidents
Unfortunately, slip and fall and trip and fall accidents can result in death as well. In that situation, the case may be considered a wrongful death action. For most people, it may come as a surprise that slip/trip and fall accidents are second only to motor vehicle accidents as a cause of death from accidents. According to the Occupational Safety and Health Administration (OSHA), slip/trip and fall accidents account for 15% of all accidental deaths.
What Are Common Causes of Slip & Fall Accidents?
OSHA states the causes of slip and fall accidents are mainly due to the following:
Spills on walking surfaces such as water, oil, grease, blood, and food products
Dry products such as dust, powder, plastic wrap, and wood
Polished or waxed floors
Loose floorboards, tiles, rugs, and mats
Ramps without a slip resistant surface
Inadequate footwear
OSHA also discusses the common causes of trip and fall accidents. Some of the reasons indicated are the following:
Uneven floors or walking surfaces
Unexpected obstacles in hallways or walkways
Cables, wires, or extension cords in walkways
Abnormal or missing stair steps
Where Are Slip & Fall Accidents Most Likely to Happen?
Individuals should be cautious anywhere they go, as slip and fall accidents and trip and fall accidents can occur just about anywhere. The most common places are restaurants and retail establishments. A place that has a smooth flooring surface where items can be spilled or dropped is a place that is most susceptible to a slip and fall.
We have handled these types of negligence cases against:
TGI Fridays (both the Coral Springs location, and the one in Plantation, FL)
Just For Feet, J.C. Penney
Winn-Dixie
Albertson's
Publix
Dania Jai-lai
Roadhouse Grill
K-Mart
Wal-Mart
Target
Walgreens
Eckerds
Wannado City
Burlington Coat Factory
Applebee's
Movie theaters
Apartment buildings
Gas station convenience stores
Shopping centers and malls
And many more establishments
We have also sued condominiums, churches, and office buildings on behalf of our clients for the dangerous conditions present on their premises.
How To Avoid Slip and Fall and Trip and Fall Accidents
A few tips to keep in mind to avoid these types of accidents are to wear slip resistant shoes, avoid walking in dark or poorly lit areas, be aware of weather changes by making sure to not run or walk fast in the rain, and wear sunglasses on sunny days. The worst type of shoes that we see so many slip and falls happening with are flip-flops.
Flip-flops should not be worn when it is raining or expected to rain. Of course, we have the tendency here in South Florida to wear flip-flops or sandals. If you choose to, try to make sure that the shoe bottoms have a tread to them, and test them to see if they are somewhat slip-resistant Also, be aware of where you are walking.
When walking in restaurants, be wary if those restaurants have tile-like or polyurethane wood floors. If walkways or aisles seem cluttered or there are obstacles in the way, take an alternate route.
What To Do After a Slip, Trip, or Fall
Unfortunately, many of us will experience a slip, trip, or fall at some point in our life. In fact, more than one million people in the United States go to the emergency room every year due to slip and fall incidents.
At Law Offices Cytryn & Velazquez, P.A., our attorneys have represented countless clients in slip, trip, and fall cases more than 40 years. Through our handling of trial and appellate cases, have established substantial changes to the law in Florida for slip, trip, and fall cases.
Thankfully, in the course of representing clients for more than four decades in accident cases, we've learned a thing or two about what to do after a slip, trip, or fall incident. Here's what we recommend.
Look around and inspect the scene. Try to figure out what caused you to slip, trip, or fall. Was it liquid on the ground? Was it an uneven sidewalk or pavement? Was it a loose wire in a hallway? It is extremely important for your case that you try to determine what was the cause of your incident.
Immediately take pictures of the condition that caused you to slip, trip, or fall. If you are not physically able to do this, ask somebody to do it for you. If you are unable to get pictures taken right after the incident, ask a family member or friend to go back to the scene as soon as possible to take pictures before the scene is changed. You want to document what the scene looked like at the time of, or as close to the time of the incident as possible Take as many photos as possible, and remember, detail matters. Take close-up photographs of the condition that caused your accident, and take wide-view photographs, as well. When it comes to photographs of the scene, the more the better. And if it is a trip and fall over a change in elevation such as on a walkway or a sidewalk, try to have somebody take pictures immediately with a ruler showing the change in elevation.
Get witness information. If anybody witnessed you slip, trip, or fall, or if somebody arrived shortly after the incident, get their name, phone number, address, and email address. Witnesses to the incident can be a critical part of your case. Since you are unlikely to have a pad and paper, get them to enter their information as a note on your cellphone.
Report your slip, trip, or fall to a manager or other employee at the location of the incident. But DO NOT sign anything given to you by the manager or employee. You may not know exactly what you are signing, and in most instances, it won't be anything that helps your case. If the manager or other employee fills out an incident report, you probably won't get a copy of it, especially if it says anything favorable to your case. This is because incident reports generally are considered "work product" that a defendant is not ordinarily required to provide to you during your case.
Get immediate medical treatment. If you need emergency assistance, call 911 right away. Don't hesitate to call for help. Let the paramedics come and transport you to the hospital where you can be treated for your injuries. That way, not only will you get treated for your injuries, but the paramedics and the medical providers at the hospital will prepare reports documenting your symptoms, injuries, and treatment, and these reports may end up being a crucial part of your case.
Call us immediately. There is no reason to delay calling your personal injury lawyer who specializes in trip and slip and fall cases. If it turns out that your case is nothing, "nothing ventured nothing gained." But we are prepared and equipped to act quickly to make sure that you are doing the right things to protect yourself with regard to any potential claim that you may have for your injuries.
Show-up (and be on time) for your medical appointments. Make sure you show-up when you are supposed to and don't skip appointments. Don't lie to your medical providers about your condition. If you are in pain, tell the provider what you are experiencing. Don't be embarrassed to tell them about whatever physical symptoms you are experiencing. Also, make sure to tell your medical providers about previous injuries or accidents. Don't think that just because you fail to tell the provider about a pre-existing condition then the defendant won't find out about it. Be truthful at all times with your medical providers.
DO NOT speak to insurance adjusters. Do not make any written or verbal statements regarding the incident or your injuries to anyone other than your attorneys and medical providers. The insurance adjuster is not your friend, no matter what they say or how nice they seem. The insurance adjuster is not here to help you. Even if the insurance adjuster says they need your statement, do not give a statement. You absolutely ARE NOT required to speak to the insurance adjuster. Speaking with the adjuster will almost never be helpful for your case. If an insurance person calls or somebody from the company or business calls, just tell asked them for their telephone number, and let them know that you will have your attorney call them back.
Save your shoes and clothing that you were wearing when you slipped, tripped, or fell. Do not throw anything away. Your attorney may want to maintain your shoes or clothes because it may be an important piece of evidence in your case.
Don't post anything about your slip, trip, or fall incident on Facebook, Instagram, Twitter, or any other social media. Insurance defense attorneys and insurance adjusters know that many people make the mistake of posting way too much personal information on social media. So, do not post anything about your incident on social media, and if you do post other things like photographs or videos of you or your family, be very careful about what you put on the internet. Even if your account is set to private, if a lawsuit is filed, the defense attorneys can still gain access to what you post on your social media accounts through requests for production and subpoenas filed with the court.
Call an experienced personal injury trial attorney. Attorney Dan Cytryn has been handling personal injury cases for over 40 years and has been a Board-Certified Civil Trial Lawyer for more than 30 years. He has handled over 105 personal injury jury trials and more than 30 appeals. Call our office today for a free and confidential consultation at

(954) 833-1440

.
Experienced Slip and Fall Accident Attorneys in Coral Springs
It is important to hire an attorney as soon as possible after your slip and fall accident. Our firm will investigate the accident location, take photographs to preserve the scene, interview witnesses if necessary, test the materials used to construct the surface, and any other investigation required for your specific circumstances. Since slip and fall and trip and fall cases are time sensitive, it is imperative to find a qualifying attorney as quickly as possible to discuss your case.
Our firm has handled an extensive amount of slip and fall and trip and fall cases. Through these cases, we have established laws in Florida in the areas of slip and fall and trip and fall, just as we have in many other areas of the law. We ensure that all our clients receive the benefit of our experience and understanding of the law in the handling of their slip/trip and fall cases.
For example, our first appeal involving a slip and fall case that actually made it up to the Florida Supreme Court was the case of TGI Friday's, Inc. v. Dvorak. Mr. Cytryn argued this case in the Florida Supreme Court in 1995. This case has gone on to be the precedent-setting case when attorney's fees are awarded to either side in a civil lawsuit, following its enactment by the legislature in the Tort Reform Act of 1986.
One of the cases we have handled in Coral Springs involved the Coral Baptist Church, which then was located on University Drive in Coral Springs (and has since moved to another city). Our client, a 73-year-old female, was attending her niece's nursing graduation at the church when she tripped and fell over a rug covering the threshold of the entrance.
Upon investigation, it was noted that the threshold was elevated by 3 inches from the outside of the building. In other words, when entering the church, there was a step hidden underneath the rug. Unfortunately, our client suffered a hip fracture, which required surgery, and a fracture to her right 5th finger. The best offer before trial was less than $10,000. The jury awarded more than $300,000 (including attorney's fees) to our client for her pain, suffering, and medical expenses.
Mr. Cytryn also made law in Hilliard v. Speedway Superamerica LLC, where a customer exiting a gas station missed a step and fell because the step leading down from the sidewalk was not noticeable, since it blended into the driveway. In that case, the court found that a landowner can be negligent where changes in elevation (like a curb or step) are not clearly marked, such as with different color paint.
In Glanzberg v. Kauffman, a woman fell leaving a home. The court agreed with Mr. Cytryn that evidence of similar incidents, where other people fell on the "optical illusion" type steps, should be allowed to show that those steps were dangerous. The trial court was reversed for not allowing in that evidence.
In Ventimiglia v. TGI Fridays, Inc., yet another case involving a slip and fall at a chain restaurant (TGI Friday's), Mr. Cytryn convinced the court that it was wrong to leave out testimony from current and former employees about the defendant's "negligent mode of operation" (using hard floor surfaces like wood and tile where there were frequent spills and employees trekked grease onto the floor from the kitchen).
In addition, we have obtained several 6-figure and even a million-plus jury verdicts in fall cases. For example, we obtained a million-plus jury verdict in Miami-Dade County. The case involved a woman who was at a movie/television studio when she tripped and fell over a bump on a doorway.
After a thorough investigation, the lead attorney of the firm, Dan Cytryn, hired an architect expert who determined that the cause of the accident was due to a violation of building codes and other standards. As a result of her accident, the 74-year-old victim sustained serious injuries. The jury awarded $1.9 million and found the movie studio 84% responsible for the trip and fall.
What We Do for You
We can refer you to doctors who are willing to wait until the end of your case to get paid.
We will do a thorough investigation of where the accident took place
We will get you reimbursed for your medications and lost time from work, if you qualify.
We will do our best to accommodate your schedule so that you don't have to miss time from work to meet with us.
Contact Us to Discuss Your Case
If you have been injured in Coral Springs due to a slip or trip and fall accident, our firm offers free consultations. If you cannot come to our office because you are at the hospital or immobilized by your injuries, one of our lawyers or representatives will come to you. In order to accommodate you, our firm has a network of doctors in the Coral Springs area.
We also provide an individualized experience for you by designating a case manager to follow up and update you on the status of your case. Visit our verdicts and settlements page to see examples of what we have recovered for some of our former clients.
Our firm has helped countless Coral Springs slip/trip and fall victims and knows the appropriate steps to take for accident cases. Our firm works on a contingency basis, meaning you do not pay any fees or costs if there is no recovery.
---
If you or your loved one has been involved in a slip/trip and fall accident, call the Law Offices Cytryn & Velazquez, P.A. now at (954) 833-1440 your free consultation.
---
Why Hire Our Firm? What You Can Expect From Us
Always Available for You

If you don't have a way of getting to our office, we will come to your home or hospital.

Board Certified Lawyer

We have the only active board certified civil trial lawyer in Northwest Broward County.

More Than 40 Years of Experience

We have a proven track record of success in accident cases over 4 decades.

Our Results Don't Lie

We've had more than 30 cases that have settled or resulted in jury verdicts of one million dollars or more.

No Fee If No Recovery

We work on a contingency fee, so we only get paid if you get paid.
Schedule Your Free Consultation Today! Contact Us Today