Slip and Fall
Tamarac Slip, Trip, and Fall Lawyer
Injury Accident Lawyer Handling Trip and Fall Cases in Tamarac
Tamarac: Our founding partner who is a slip and fall accident lawyer at the Law Offices Cytryn and Velazquez, P.A., has been helping fall accident victims for over 40 years. Most slip and fall and trip and fall accident cases result because property owners do not exercise reasonable care required by law. If you have been involved in a slip or trip and fall accident due to someone's failure to take care of their property, it's best to contact a personal injury attorney like a personal injury lawyer from our law office to see if we can assist you.
For example, we handled a trip and fall accident case that took place in a Broward County shopping center which involved one of our former clients. Our client walked out of an office into a parking lot, when suddenly, he tripped over a parking block and fell to the ground. He used a ramp located directly outside of the office to reach the parking lot. The block he tripped on was located directly in front of the ramp. Unfortunately, the block was not visible because there was a car parked in a parking space in front of the ramp. Upon investigation, our experts determined that the ramp as well as the parking block was in violation of several building codes. As a result of his fall, our client suffered numerous injuries that ultimately claimed his life. The client's son and daughter pursued the case on behalf of their father, who lost his life due to negligence. The defendant property owner and managers for the property site offered $100,000. The jury returned a verdict close to $700,000 to our client's son and daughter for the wrongful death of their father, before allocating apportion of the fault to our client.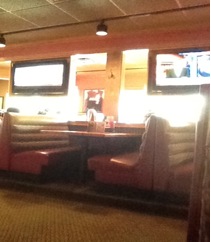 Applebee's in Coral Springs where one of our client tripped on an elevated booth
Some of Our Services
We will front all costs to immediately get started with your case
We will conduct an investigation of the scene of the accident
We will advise you of whether a lawsuit should be filed for your case
We will do our best to prevent you from missing work to meet with us
---
Get Assistance Now: (954) 833-1440
---
Hiring a Slip/Trip and Fall Lawyer Tamarac
Fall accidents should not be taken lightly because they are ranked as the second cause of death from accidents in the United States. Tamarac residents that survive fall accidents are often left with severe injuries requiring immediate medical assistance. Fortunately, our personal injury law office has an established network of doctors in the city of Tamarac and neighboring communities, allowing you to benefit from short commutes to undergo medical treatments.
Our team of slip/trip and fall accident lawyers and helpful staff are committed to providing you with the genuine attention you deserve. We know that fall accidents are traumatic experiences; therefore, we put forth our best effort to accommodate you throughout the legal process. Our personal injury firm offers a free consultation in which we will determine whether or not we will be able to help you with your case.
If you cannot make it to our law office due to hospitalization or transportation issues, one of our personal injury attorneys or representatives will come to you, whether it is at the hospital or at your home. In addition, all of the cases we handle are on a contingency basis. In other words, you do not pay anything if we do not attain compensation for you.
---
If you have been involved in a Tamarac slip or trip and fall accident, call our office now at (954) 833-1440 for your free consultation. We are experienced slip/ trip and fall attorneys prepared to represent you for your accident case.
---
Why Hire Our Firm? What You Can Expect From Us
Always Available for You

If you don't have a way of getting to our office, we will come to your home or hospital.

Board Certified Lawyer

We have the only active board certified civil trial lawyer in Northwest Broward County.

More Than 40 Years of Experience

We have a proven track record of success in accident cases over 4 decades.

Our Results Don't Lie

We've had more than 30 cases that have settled or resulted in jury verdicts of one million dollars or more.

No Fee If No Recovery

We work on a contingency fee, so we only get paid if you get paid.
Schedule Your Free Consultation Today! Contact Us Today