Car Accidents
Tamarac Car Accident and Injury Lawyer serving all of South Florida
Tamarac-Car Accident and Injury Lawyer serving all of South Florida
Personal Injury and Accident Attorney Near Tamarac Handling Car Accident Case
After a car accident in Tamarac, one of your top priorities should be to contact a personal injury lawyer who will do his best on your injury case. Having handled car accident cases in Tamarac and every other city in Broward County, our personal injury firm has extensive experience helping accident victims with the nuances and difficulties you are having or may experience. We are familiar with all kinds of car crash cases, and have handled thousands of rear end collision cases, for example, since they are the most common. The following are other practice areas that our office handles: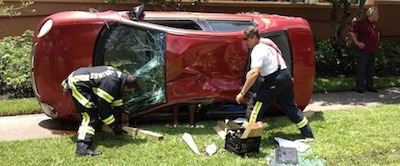 Slip, Trip, and Fall
Motorcycle accidents
Bicycle accidents
Truck/bus accidents
Pedestrian accidents
Boating/cruise ship accidents
Nursing home abuse
Construction accidents
Examples of Some of Our Services
We will help you with your property damage if that is something you would like assistance with.
We will see if you are entitled to a rental while your vehicle is being repaired and we'll set that up for you.
We will recommend doctors that are willing to wait until the end of your case to get paid.
If you don't have transportation to get to your medical appointments, we will do our best to find a doctor who provides transportation.
Our office is open weekdays from 8:00a.m. to 7:00p.m. but if those hours don't work for you, we will do our best to accommodate your schedule so that you don't have to miss work.
---
Call Now for Your Free Consultation: (954) 833-1440
---
One of the car accident cases we have handled in Broward County involved a woman, who was employed as a nurse at the time of her accident. The defendant vehicle driver ran a red light, causing a collision at an intersection with our client. As a result of the accident, our client sustained a closed head injury with mild traumatic brain injury. In addition, our client also had injuries to her cervical and lumbar spine. Due to the gravity of our client's injuries, she had trouble performing her tasks as a nurse. The offer before trial was $25,501.00. The jury found the defendant driver 100% negligent, and the plaintiff was awarded more than $200,000.
At the Law Offices Cytryn and Velazquez, P.A., we get to know each of our clients by providing individualized attention. As a client of our law firm, you will be assigned a case manager for your Tamarac car accident case. The case manager will work closely with you and the attorneys of the firm to handle the daily requirements of your case. In order to best assist us in your first visit with our firm, it is helpful that you have the following information:
Location of the accident
Direction the vehicles were traveling
Your insurance information
Insurance information of the person that caused the accident
Traffic citation
Medical treatments you have received related to the accident (if applicable)
Mr. Cytryn, the head attorney of the firm, has been named a Super Lawyer from 2010 to 2014. In order to be a Super Lawyer, an attorney must have a high degree of peer recognition, ethical standards and achievement in their field. In addition, Mr. Cytryn has a rating of 10 on Avvo, a website that provides listings and ratings of attorneys nationwide. We recommend our prospective clients look at previous results we have attained for some of our former clients, while keeping in mind that each case result differs depending on the circumstances of your case.
If you are concerned about the expense of hiring an attorney, you will be pleased to know our firm offers a free consultation for your accident case. We also work on a contingency basis. In other words, you will not pay anything if there is no recovery for your case.
Our Tamarac car accident lawyers do their best to help victims obtain compensation for their injuries. Our firm has over 40 years of experience handling Tamarac car accident cases.
---
Call us now at (954) 833-1440 for your free consultation.
---
Why Hire Our Firm? What You Can Expect From Us
Always Available for You

If you don't have a way of getting to our office, we will come to your home or hospital.

Board Certified Lawyer

We have the only active board certified civil trial lawyer in Northwest Broward County.

More Than 40 Years of Experience

We have a proven track record of success in accident cases over 4 decades.

Our Results Don't Lie

We've had more than 30 cases that have settled or resulted in jury verdicts of one million dollars or more.

No Fee If No Recovery

We work on a contingency fee, so we only get paid if you get paid.
Schedule Your Free Consultation Today! Contact Us Today