Motorcycle Accidents
Tamarac-Motorcycle Accident Lawyer
Personal Injury Lawyer Handles Motorcycle Accident Cases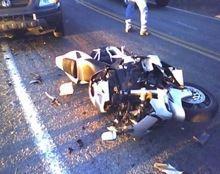 The busy streets of Tamarac and every other city in South Florida possess hazardous conditions for motorcyclists. According to the Center for Disease Control and Prevention, between the years 2001 to 2008, more than 34,000 motorcycle drivers in the United States were killed and well over 1 million people sought emergency medical care for motorcycle accidents.
Having an experienced Tamarac Motorcycle accident lawyer is essential for your accident case. At the Law Offices Cytryn and Velazquez, P.A., we have been handling motorcycle cases in Tamarac for over 40 years. When you are involved in a motorcycle accident as a result of another vehicle's negligence, you may be entitled to file a claim.
For instance, we handled a case involving a motorcyclist who was involved in a collision with a taxicab in a city near Tamarac. The motorcyclist suffered severe injuries including a fractured femur and head injuries. Due to the severity of his injuries, our client ended up being hospitalized for more than two weeks and required three surgeries. The defendants' best offer was $170,000; however, following a trial, Mr. Cytryn, the head attorney for the firm, was able to obtain a jury verdict of $510,000, which was reduced by 25% because of his client, the extent of the motorcycle driver's, negligence.
Hiring a Tamarac Motorcycle Lawyer
Tamarac motorcycle accident victims, like many other accident victims, are faced with trauma, injuries, and often miss work or school in order to recover. As a result, many accident victims avoid filing a claim because they believe it will only enhance their stress, but in fact, seeking a qualified Tamarac motorcycle injury lawyer is the appropriate option for many after their accident. Our firm offers a free consultation and if we determine it is case we can pursue, we work on a contingency basis. In other words, it is of no cost to you unless our Tamarac personal injury lawyers recover compensation on your behalf.
Motorcycle injuries tend to be very severe, and frequently require emergency medical assistance. Fortunately, our firm has a network of doctors in Tamarac and neighboring cities to facilitate the legal process and recuperation for each of our clients. Our friendly staff prioritizes our clients' needs by consistently updating them on the status of their case, and maintaining availability via telephone, email, and correspondence to answer any questions or concerns our clients may have.
Our firm advises prospective clients to take a look at our verdicts and settlements page to review examples of what we have recovered for some of our former clients, while understanding that results vary depending on the details of your case. Further, we suggest reading what makes our personal injury firm different from others to have a better understanding of how we handle each of our cases.
---
If you have been injured in a motorcycle accident in Tamarac, contact the Law Offices Cytryn & Velazquez, P.A. now at (954) 833-1440 for your free consultation.
---
Why Hire Our Firm? What You Can Expect From Us
Always Available for You

If you don't have a way of getting to our office, we will come to your home or hospital.

Board Certified Lawyer

We have the only active board certified civil trial lawyer in Northwest Broward County.

More Than 40 Years of Experience

We have a proven track record of success in accident cases over 4 decades.

Our Results Don't Lie

We've had more than 30 cases that have settled or resulted in jury verdicts of one million dollars or more.

No Fee If No Recovery

We work on a contingency fee, so we only get paid if you get paid.
Schedule Your Free Consultation Today! Contact Us Today