Slip and Fall
Pompano Beach Slip and Fall Accident Lawyer
Trip and Fall Attorney Handling Cases throughout Florida
Pompano Beach Slip and Fall Accident Lawyer
Trip and Fall Attorney Handling Cases throughout Florida
Our lawyers handling Pompano Beach personal injury cases have handled slip, trip, and fall accident cases in Broward, Miami-Dade, and Palm Beach counties. Our personal injury law firm has handled fall cases against TGI Fridays ( the Coral Springs and Plantation locations), Just For Feet, J.C. Penney, Winn-Dixie, Albertson's, Publix, Dania Jai-lai, Roadhouse Grill, K-Mart, Wal-Mart, Target, Walgreens, Eckerds, Wannado City, Burlington Coat Factory, Applebee's, movie theaters, apartment buildings, gas station convenience stores, shopping centers, and many other establishments.
According to the Occupational Safety and Health Administration, fall accidents are responsible for 15% of all accidental deaths in the United States. The most common places where falls occur are at retail establishments and restaurants. If you have been injured in slip and fall or trip and fall accident in Pompano Beach, our attorneys might be able to help you file a claim.
Dan Cytryn made law in the trip and fall case of Hilliard v. Speedway Superamerica LLC, where our client was walking out of a gas station store and fell due to an unnoticeable step that blended into the driveway. The appeals court found that there should be a color differentiation between the step and the driveway to avoid creating an optical illusion. Our injured client was so happy with our result in that case, she made a plaque for the law firm commemorating the case.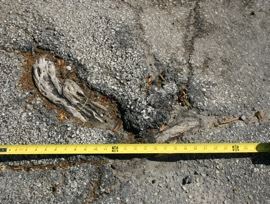 Our client tripped and fell on elevated asphalt caused by the root of a tree.
For fall accident victims, it is especially important to hire an attorney as quickly as possible after the accident. Our firm will gather evidence by taking photos of the scene of the accident, interviewing witnesses, conducting an investigation, and hiring experts that are applicable to your case.
Most people that are injured in a fall accident do not know what area of law handles fall cases.
You need to hire a personal injury firm to file your claim. When researching firms, be sure that the attorneys only handle personal injury cases and no other type of law such as criminal.
Slip and Fall Lawyers in Pompano Beach
Attorney Dan Cytryn, the founder of the firm, is dedicated to creating a personal experience for each of our clients. From the very beginning, you will be our priority. When you call for your free consultation, you will be connected to an intake specialist immediately to discuss your case. The purpose of your free consultation is to see if our attorneys are able to help you with your case.
We don't want to waste you time, which is why we will only have you meet with an attorney if we determine we can represent you for your fall case. Your initial meeting with the attorney is important because you will go into further detail about your accident. Also, the attorney will give you a folder with very important documents pertaining to the strategy that will be taken for your case. This meeting serves as an opportunity for the client to address any concerns or questions about filing a claim.
Is the expense of hiring an attorney stopping you from making a phone call to our office today? At the Law Offices Cytryn & Velazquez, P.A., we work on a contingency basis, which means the client does not pay costs or fees if our lawyers cannot obtain financial recovery for the accident case.
You should not have to wait to get justice for your injuries. Our Pompano Beach slip and fall accident lawyers want to help you get started in filing your claim right away.
Read what previous clients have said about our firm to get outside perspectives on our staff and the services rendered by us.
---
Call our office now at (954) 833-1440 for your free consultation.
---
Why Hire Our Firm? What You Can Expect From Us
Always Available for You

If you don't have a way of getting to our office, we will come to your home or hospital.

Board Certified Lawyer

We have the only active board certified civil trial lawyer in Northwest Broward County.

More Than 40 Years of Experience

We have a proven track record of success in accident cases over 4 decades.

Our Results Don't Lie

We've had more than 30 cases that have settled or resulted in jury verdicts of one million dollars or more.

No Fee If No Recovery

We work on a contingency fee, so we only get paid if you get paid.
Schedule Your Free Consultation Today! Contact Us Today