Slip and Fall
Miramar Slip, Trip, and Fall Accident Lawyer
Personal Injury Attorney Helps Miramar Fall Accident Victims
Miramar, Florida: When you have a slip or trip, and fall accident in Miramar that is not your fault and occurs on somebody else's property, whether a business or even another person, it's best to contact a South Florida personal injury lawyer such as our personal injury lawyers to see if you have a case. Our personal injury firm has represented people who have fallen from ladders, tripped on an inconspicuous step or object on a doorway, and people who have slipped on foreign substances. If you think your fall accident is the result of someone's negligence, call us now to see if we can represent you.
It's best to contact a personal injury attorney as soon as possible after your accident. Most importantly, if we can get out the scene of the accident before the scene has changed, we may be able to get pictures, and/or measurements, or we may even decide that our investigation requires an expert visit to the place where the fall occurred. Second, a fall accident has a statute of limitations, meaning that you have a limited amount of time to pursue your personal injury case. If it's possible, try taking photos of where the accident occurred right away, even before you come and see us, if possible, so that you can preserve the evidence before the property owner or someone else changes or fixes the area where your fall took place.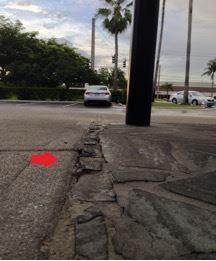 Our client tripped and fell at the entrance of a restaurant.
Our personal injury firm offers free initial consultations to see if we assist you with your fall accident. Once we take your case, you won't have to worry about making payments for our services because we work on a contingency fee basis meaning you do not pay anything unless we are able to obtain financial compensation for your case.
Communication is one of our firm's top priorities. Aside from being available by phone, you can also contact us by email, fax, and in person. Also, unlike other law firms, we get back to you quickly. We will be there for you to help you during this difficult time. Our office is open from 8:00a.m. to 7:00p.m. but we will do our best to accommodate your schedule if you need an evening or weekend appointment-.
We are a boutique law firm and only take a limited amount of cases so that we can provide the personal attention that every client deserves. If you need help finding a doctor, we can recommend you to doctors who are willing to wait until the end of your case to get paid even if you don't have health insurance. These are just a few of the many services we provide for our clients. Be sure to visit our page to read reviews from former clients.
Hiring a South Florida Personal Injury Lawyer
When you're researching personal injury lawyers, be sure to find an attorney that has a track record of results with fall accident cases. The founding attorney of the firm, Dan Cytryn, has over 40 years of experience and has handled fall accident cases against well known companies and corporations such as TGI Friday's Publix, Walgreens, Applebee's, and many others.
---
If you or a loved one has been injured in a fall accident due to the negligence of another, call our office now toll free at (954) 833-1440 for your free consultation. We can also assist you in Spanish and English. Don't wait another day! Call us now!
---
Why Hire Our Firm? What You Can Expect From Us
Always Available for You

If you don't have a way of getting to our office, we will come to your home or hospital.

Board Certified Lawyer

We have the only active board certified civil trial lawyer in Northwest Broward County.

More Than 40 Years of Experience

We have a proven track record of success in accident cases over 4 decades.

Our Results Don't Lie

We've had more than 30 cases that have settled or resulted in jury verdicts of one million dollars or more.

No Fee If No Recovery

We work on a contingency fee, so we only get paid if you get paid.
Schedule Your Free Consultation Today! Contact Us Today