Motorcycle Accidents
Miramar Motorcycle Accident Lawyer
Personal Injury Attorney for Miramar Accident Victims
Miramar, Florida: Did your motorcycle accident in Miramar result from a negligent driver? Are you injured from a motorcycle accident and don't know what to do next? Call a personal injury lawyer from our law firm now. We will do our best to advise you on the steps you should take after your motorcycle accident in Miramar. Whether you were wearing a helmet or not, call us to see if we can assist you. We handle cases that took place in Miramar and everywhere else in Florida.
What We are Ready to Do for You Now:
If your motorcycle was totaled and don't have a way of getting to our office, we will send an attorney to your home or hospital
We will not burden you with any upfront costs to start with your case. We work on a contingency fee basis meaning you don't pay unless we win your case
We will get you to a doctor who will not charge you for treatment until the end of your case
We will work on getting you reimbursed for your medications and any missed time from work if that's something you are entitled to receive
---
Why Wait? The Consultation Is Free:(954) 833-1440
---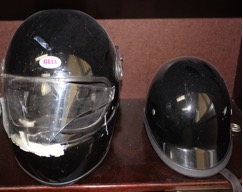 The helmet on the left saved our client's life. It was used as an exhibit in a 1986 jury trial
If you've never hired a personal injury lawyer in the past, you might not know what to look for in an attorney. It's best to find out if the attorney has experience handling motorcycle accident cases. Also, look to see if the attorney has awards and recognitions.
The founding attorney of our law firm, Dan Cytryn, has over 40 years of experience handling personal injury cases. Mr. Cytryn is also board certified, which is a title only held by a little less than 1% percent of attorneys in Florida. Cytryn is AV rated by Martindale Hubbell, w
hich is a company that has been rating attorneys for more than 100 years. He was also named as a top lawyer in the South Florida Legal Guide for 2015.
Did you or a loved one suffer injuries in motorcycle accident? Was your loved one in a fatal motorcycle accident and want to seek justice?
---
Call our office now toll-free at (954) 833-1440 for your free consultation. Our personal injury firm takes a limited amount of cases and will give you the attention you deserve. Don't wait another minute!
---
Why Hire Our Firm? What You Can Expect From Us
Always Available for You

If you don't have a way of getting to our office, we will come to your home or hospital.

Board Certified Lawyer

We have the only active board certified civil trial lawyer in Northwest Broward County.

More Than 40 Years of Experience

We have a proven track record of success in accident cases over 4 decades.

Our Results Don't Lie

We've had more than 30 cases that have settled or resulted in jury verdicts of one million dollars or more.

No Fee If No Recovery

We work on a contingency fee, so we only get paid if you get paid.
Schedule Your Free Consultation Today! Contact Us Today