Car Accidents
Miramar Car Accident Lawyer
Car Accident Lawyer in Miramar and all of South Florida
Miramar-Personal Injury and Accident Attorney Helps Car Crash Victims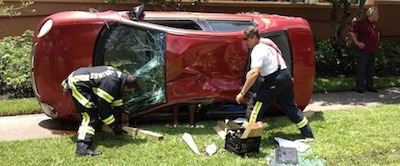 Miramar, Florida: After a car accident in Miramar or anywhere in South Florida, it's best to contact a personal injury lawyer with court room experience and a track record of results. Our personal injury firm has experience handling a variety of car accident cases including pedestrian and bicycle riders struck by vehicles and more complex cases involving brain injury and other permanent injuries. In addition to car accident cases, we also handle wrongful death, nursing home neglect, and slip, trip, and fall accidents. Call now to see if we can assist you with your personal injury case.
What We Can Do For You
From the beginning of your case, our top priority is serving you. When you call for your free consultation, you will promptly be able to discuss the details of your case with us. If we take your case and you are injured or don't have a way of getting to our office, we will come to your home or hospital. We are also conveniently open from 8:00a.m. to 7:00p.m. but if you can't come during our business hours, we will do our best to accommodate your schedule by setting up evening or weekend appointments.
Are you concerned about the expense of hiring a personal injury lawyer? Well you have nothing to worry about because we work on a contingency fee basis meaning you pay nothing unless we are able successful in obtaining monetary recovery for your case. That's right; we front all of the costs to immediately get started on your case.
If you are looking for a doctor to treat your injuries, we can refer you to doctors and specialists that are willing to wait until the end of your case to get paid. We will also provide assistance with your property damage if that is something you would like help with. These are just some of many services we will provide for you.
Miramar Hiring a Personal Injury Lawyer
For car accident victims, we highly recommend contacting an injury attorney to review your case. A lot of people don't know that if you go through insurance companies, when it comes time to compensate you for your injuries, they will make 'low ball' offers. Take a look at what Allstate insurance company doesn't want you to know. Most major auto insurance companies use similar tactics as Allstate to pay the least amount possible for car accident claims.
The founding attorney of the firm, Dan Cytryn, has been representing victims of car accidents and other personal injury cases for over 40 years. Cytryn is a board certified civil trial lawyer who has tried more than 100 jury trials and has achieved more than 10 million dollar verdicts and settlements in his career. Visit our client testimonials page to see what some of our previous clients have said about our services and staff. You might also find it helpful to look at client reviews on our Google + page.
We can assist you in Spanish and Portuguese as well. Don't wait another day to see if you can get justice for your injuries.
---
If you or a loved one has been injured in a car accident in Miramar or anywhere in South Florida, call us now toll free at (954) 833-1440 for your free consultation. Call now!
---
Why Hire Our Firm? What You Can Expect From Us
Always Available for You

If you don't have a way of getting to our office, we will come to your home or hospital.

Board Certified Lawyer

We have the only active board certified civil trial lawyer in Northwest Broward County.

More Than 40 Years of Experience

We have a proven track record of success in accident cases over 4 decades.

Our Results Don't Lie

We've had more than 30 cases that have settled or resulted in jury verdicts of one million dollars or more.

No Fee If No Recovery

We work on a contingency fee, so we only get paid if you get paid.
Schedule Your Free Consultation Today! Contact Us Today