Motorcycle Accidents
Margate Motorcycle Accident Lawyer
Personal Injury Lawyer Handles Motorcycle Accident Cases-Margate, Florida
Margate and all of the other cities in South Florida are hazardous for motorcycle drivers. In a lot of motorcycle accident cases, the at-fault party of the collision is the driver of an automobile, truck or bus. Many of the accidents occur because they do not see the motorcycle or were distracted by their phones, music, or people in the car. If you have been involved in a motorcycle accident, the Law Offices Cytryn & Velazquez, P.A. might be able to represent you for your injuries.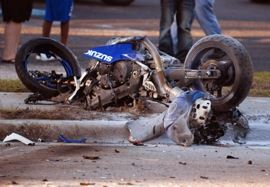 Mr. Cytryn, the founder and head attorney of the firm, has handled countless motorcycle accident cases such as the one of a young motorcyclist and a taxicab. Our client, the motorcycle driver, was terribly injured in the collision, and spent over two weeks in the hospital. Further, he required 3 surgeries due to his injuries. A couple of weeks before trial, the defendant's best offer was $170,000. However, following a trial, Mr. Cytryn obtained a jury verdict of $510,000 before our client's comparative negligence reduced the verdict by 25%.
Another case we are currently handling is that of a moped passenger who sustained permanent brain damage and other injuries. Our client was riding on the moped, when the defendant driver switched lanes abruptly causing the collision. The case went to trial and resulted in an $11.8 million dollar verdict before it was reduced for our client's comparative negligence. Since the jury largely reduced the verdict and the jury was not properly instructed by the trial judge, Mr. Cytryn was able reverse the jury verdict on an appeal for a new trial. The next time we go to trial, we hope to attain a higher jury verdict and judgment for our client.
The Motorcycle Injury Lawyers in Margate Offer a Free Consultation
Margate motorcycle accident victims often suffer serious injuries requiring emergency medical assistance. Our office knows the negative consequences accident victims face, therefore, one of our main goals is to ease the legal process by having a network of doctors and experts in Margate and surrounding cities.
In addition, we work on a contingency basis, meaning there are no fees or costs if there is no recovery. Prospective clients are encouraged to read what our former clients have said about our lawyers and staff. The testimonial's page gives potential clients an idea of what our firm has to offer and how we handle cases. We also suggest visiting our verdicts and settlements page to view examples of results we have attained for some of our previous clients.
If you are unsure whether or not you have a case, our firm offers a free consultation where you can discuss your accident. Potential clients are notified promptly if we will be able to handle their case. Our firm has been handling motorcycle accident cases for over 40 years and would like to assist you with your case.
---
If you have been involved in a motorcycle accident in the city of Margate, call the Law Offices Cytryn & Velazquez, P.A. now at (954) 833-1440 for your free consultation.
---
Why Hire Our Firm? What You Can Expect From Us
Always Available for You

If you don't have a way of getting to our office, we will come to your home or hospital.

Board Certified Lawyer

We have the only active board certified civil trial lawyer in Northwest Broward County.

More Than 40 Years of Experience

We have a proven track record of success in accident cases over 4 decades.

Our Results Don't Lie

We've had more than 30 cases that have settled or resulted in jury verdicts of one million dollars or more.

No Fee If No Recovery

We work on a contingency fee, so we only get paid if you get paid.
Schedule Your Free Consultation Today! Contact Us Today