Car Accidents
Margate Car Accident Lawyer
For Margate car accident cases, think of our nearby personal injury only law office to help you with your car accident. You can be assured that a lawyer in our personal injury law firm will be assigned to supervise your case and put in their best efforts to fight for monetary compensation for your injuries. For your car accident, we will help you with any issues that arise as a result.
Examples of What We Do for You
We will help you negotiate your property damage as part of our handling your injury case, if you need our help doing that.
We can send you to the appropriate doctors who will either bill your insurance or will wait until the end of the case to get paid, depending upon your needs.
We can do our best to get you reimbursement for your medications. These are just a few of the many services our personal injury firm provides.
We Can Also Assist Clients in the Following Practice Areas: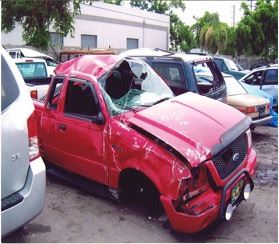 Slip, Trip, and Fall
Motorcycle accidents
Bicycle accidents
Truck/bus accidents
Pedestrian accidents
Boating/cruise ship accidents
Nursing home abuse
Construction accidents
---
Call Us Now for a Free Consultation: (954) 833-1440
---
We have handled thousands of cases for over 40 years of this law practice. One case we handled in Broward County in neighboring Coral Springs involved a vehicle running a red light and causing several injuries to our client. The accident occurred when the defendant vehicle driver ran a red light at an intersection and stuck our client's vehicle on the passenger side. As a result, our client's car spun and eventually flipped on its side. Our client sprained the lumbar and cervical spine, developed an 8-10% disability to the body as a whole, and suffered from other injuries. The defendant's best offer was $80,000, however, after trial, the jury awarded more than $300,000 to our client.
Call the Car Injury Lawyers for a Free Consultation
Mr. Cytryn, the founder and head attorney of the firm, is a Board Certified Civil Trial Lawyer, which is a title that only a little less than 1% of lawyers in the state of Florida have. Mr. Cytryn has extensive experience in personal injury cases, having tried close to 100 jury trials and more than 40 appeals. We encourage prospective clients to read further on Mr. Cytryn's experience and merits and the other attorneys of the firm as well by visiting our attorney profile pages. Also, we suggest prospective clients take a look at what former clients have said about our firm by visiting our testimonial's page on Avvo's website. At the Law Offices of Cytryn & Velazquez, P.A., our top goal is to have clients that are satisfied with our services.
Our firm offers a free consultation for your car accident. If we determine it is a case we can help you with, we will schedule an appointment for you to meet with one of our attorneys. As a client of our law firm, you will be assigned a case manager for your Margate car accident case. The case manager will work closely with you to provide status updates and handle the daily requirements of your case.
Often after a car accident, people are concerned about the expense of hiring an attorney. Our personal injury firm is pleased to inform you that we work on a contingency basis, meaning you don't pay fees or costs if our attorneys do not recover anything on your behalf. In order to best assist us in your first visit with our firm, it is helpful that you have the following information:
Location of the accident
Direction the vehicles were traveling
Your insurance information
Insurance information of the person that caused the accident
Traffic citation
Medical treatments you have received related to the accident (if applicable)
Our car accident lawyers do their best to help victims obtain compensation for their injuries.
---
Call us now at (954) 833-1440 for your free consultation. Our office is prepared to discuss the details of your case and answer any questions you may have pertaining to your accident.
---
Why Hire Our Firm? What You Can Expect From Us
Always Available for You

If you don't have a way of getting to our office, we will come to your home or hospital.

Board Certified Lawyer

We have the only active board certified civil trial lawyer in Northwest Broward County.

More Than 40 Years of Experience

We have a proven track record of success in accident cases over 4 decades.

Our Results Don't Lie

We've had more than 30 cases that have settled or resulted in jury verdicts of one million dollars or more.

No Fee If No Recovery

We work on a contingency fee, so we only get paid if you get paid.
Schedule Your Free Consultation Today! Contact Us Today