Bicycle Accidents
Margate Bicycle Accident Lawyer
Having represented bicycle accident victims in Margate for over 40 years, the Law Offices Cytryn & Velazquez, P.A. is prepared to help you file a claim for your accident. Bicycle accidents are difficult to avoid, especially for individuals that use bicycles as their mode of transportation or people biking in cities lacking sidewalks or bicycle lanes.
In 2010, the National Highway Traffic Safety Administration reported 618 fatalities and an additional 52,000 injured as a result of bike riding. Of the 618 fatalities, 83 occurred in Florida. The state accounts for more than 13% of the nation's cyclist fatalities and has the second highest number of bike deaths in the nation.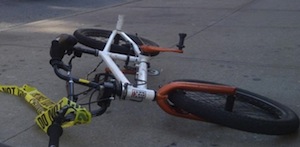 To avoid being involved in an accident in Margate, Broward County has taken the initiative to reduce bike accidents. Florida International University teamed up with Broward Metropolitan Planning Organization, and launched a new application known as BiKE Broward. The purpose of the application is for bicycle riders to map out their destinations in advance, according to their main interests. In other words, there are 5 different routes offered which are fast, short, have the least interaction with traffic, simple, and scenic. The application requires users to type in their start and end locations, and it will map out the route.
For Margate residents that bike for fitness or as a recreational activity, a safe alternative is to ride in parks that offer bicycle trails. The following is a list of parks in Broward County with bike trails:
Brian Piccolo Park located in Cooper City
C.B. Smith Park located in the city of Pembroke Pines
Central Broward Regional Park & Stadium located in the city of Lauderhill
Hollywood North Beach Park located in the city of Hollywood
Markham Park located in the city of Sunrise
Plantation Heritage Park located in the city of Plantation
Quiet Waters Park located in the city of Deerfield Beach
Reverend Samuel Delevoe Memorial Park located in the city of Ft. Lauderdale
Tradewinds Park located in the city of Coconut Creek
Tree Tops Park located in the city of Davie
T.Y. Park located in the city of Hollywood
Vista View Park located in the city of Davie
West Lake Park located in the city of Hollywood
Hiring a Bicycle Accident Lawyer in Margate
Due to the overwhelming amount of lawyers in South Florida, hiring an attorney can become a difficult task, therefore, we recommend prospective clients read our attorneys' profiles to review their qualifications and experience handling personal injury cases. In addition, we offer a free consultation for anyone who was involved in a bicycle accident in Margate.
It's also important to note that our office works on a contingency basis, therefore, you do not owe anything unless we attain recovery for you. We work with doctors and experts in Margate to help you get quality treatment just a few miles from your home.
---
Call us now toll free at (954) 833-1440 for you free consultation.
---
Why Hire Our Firm? What You Can Expect From Us
Always Available for You

If you don't have a way of getting to our office, we will come to your home or hospital.

Board Certified Lawyer

We have the only active board certified civil trial lawyer in Northwest Broward County.

More Than 40 Years of Experience

We have a proven track record of success in accident cases over 4 decades.

Our Results Don't Lie

We've had more than 30 cases that have settled or resulted in jury verdicts of one million dollars or more.

No Fee If No Recovery

We work on a contingency fee, so we only get paid if you get paid.
Schedule Your Free Consultation Today! Contact Us Today