Slip and Fall
Slip and Fall Accident Lawyer-North Lauderdale
Trip and Fall Accidents Handled by South Florida Attorney
North Lauderdale, Florida: Did you know that a leading cause of hospital visits for non fatal injuries in Florida are fall accidents. Slips, trips, and falls of any kind can happen anywhere, and if they happen due to the negligence of a property owner, then you might have a personal injury case. We have handled slip and fall and trip and fall cases in North Lauderdale and in many counties in the State of Florida.
Our personal injury law firm has represented people who have fallen off of ladders, slipped on foreign substances, tripped on an inconspicuous step or one that violates the building code, , and even handled an admiralty Federal Court case where a marine mechanic fell into open hatch cover on a yacht. Before you assume you don't have a case, it's worth calling to discuss your case with our personal injury firm. The consultation is free and you will speak to someone immediately about your case.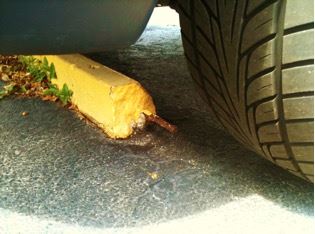 Our client tripped and fell on a metal rod sticking out of a parking block.
It's best to contact a personal injury attorney as soon as possible after your accident. Fall accidents have a statute of limitations, meaning that you have a limited amount of time to pursue your personal injury case. If you can, try to take photos of the scene of the accident to preserve the evidence before it is changed. Photographs are very important because property owners can fix the broken step or whatever it is that caused your fall. The saying "A Picture is worth a thousand words" is often true in these type of cases.
How Do Slip, Trip, and Fall Accident Cases Work?
Falling on someone's property is not enough to have a personal injury case. In fact, you need to either show that the owner of the property created the condition or that the substance was on the floor for a long enough period of time for the property owner to have known about it and had enough time eliminate the danger. Also, the law requires slip and fall accident victims to prove generally how the substance got on the floor, and generally how long it was on the floor.
In order to pursue a fall accident case, you must be injured. If we decide to take your case, we will follow up to see how you are recovering. Many of the fall accident cases that we have handled in the past required filing a law suit. We have handled cases against well known companies such as TGI Fridays, Publix, Walgreens, Applebee's and many others businesses.
Every accident case is unique and sometimes liability can be found on someone other than the property owner. For example, in ladder accident cases, the fall could have resulted from the design of the ladder, in which case that manufacturer may be held responsible.
Other common fall accident cases are caused by elevated booths in restaurants. The issue is that a lot of the times, the step ups to the booth are camouflaged because they are the same flooring material and pattern as the floor on the surface. Oftentimes, people, especially the elderly, forget that they are sitting in an elevated booth, and fall when they go to leave the restaurant. Read more about falls from booths in restaurants and see what they look like so you can be more cautious the next time you go to a restaurant.
If this is your first time pursuing a personal injury case, we recommend reading our free accident guide, which will give you tips on selecting a personal injury lawyer. Get the answers you're looking for and see if we can represent you for your accident.
---
If you or someone you know has been injured in a fall accident in North Lauderdale, call our office now toll free at (954) 833-1440 for your free consultation.
---
Why Hire Our Firm? What You Can Expect From Us
Always Available for You

If you don't have a way of getting to our office, we will come to your home or hospital.

Board Certified Lawyer

We have the only active board certified civil trial lawyer in Northwest Broward County.

More Than 40 Years of Experience

We have a proven track record of success in accident cases over 4 decades.

Our Results Don't Lie

We've had more than 30 cases that have settled or resulted in jury verdicts of one million dollars or more.

No Fee If No Recovery

We work on a contingency fee, so we only get paid if you get paid.
Schedule Your Free Consultation Today! Contact Us Today