Bicycle Accidents
Bicycle Accident Lawyer Attorney-Near North Lauderdale
Lawyer For Bike Accident in Broward County And South Florida
After a bicycle accident in North Lauderdale, the best thing you can do is contact a personal injury lawyer immediately for a free consultation and to get immediate advice. Personal injury attorneys handle accident cases that were caused by negligence and the accident cases that we handle range from bicycle, car, truck, motorcycle, bus, and pedestrian accidents, to cases dealing with wrongful death, defective products, boating and personal watercraft accidents, drowning, brain injury, and slip, trip and fall accidents.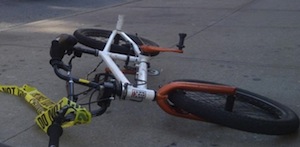 Bike riders that are struck by trucks, buses, cars, or any other type of vehicle are often shocked after their accident. Their life just flashed before their eyes and they are wondering, "Did that really just happen?" Most accidents are very traumatic for victims, and everyone reacts differently. However, if you are ever in this situation, for your safety you need to get out of the road, if possible.
Once you have done so, call 911. If possible, try to take down the information of the person who struck you, particularly if you notice them trying to leave the scene of the accident. If there are any witnesses that come out to help you, ask them for their information as well. Make sure to get down their names and phone numbers, ask them to put them as a note in your cell phone if you don't have something to write with. Try to have someone move your bicycle out of the road as well, but do not get rid of your bicycle, even if you can no longer ride it. The bicycle is important because it will serve as evidence of how your accident occurred.
If you in any way feel injured, you should not refuse medical care. As they say, 'better safe than sorry. Sometimes the shock of the accident and the adrenaline flow distorts how you truly feel, making you unaware of your injuries, or the extent of your injuries. It's best to be safe and accept the care offered by the paramedics.
We actually just settled a case for an elderly man struck by a car who rode his bicycle home after the crash with the pick-up truck. The case settled for $150,000.00, even though we thought our client was partially at fault, as the evidence pointed out that as the pick-up truck was leaving the shopping center, the man (our client) drove into the side of the pick-up truck. We settled that case as quick as possible for what we considered to be good money in light of the evidence of at least some fault on the part of our client, and major pre-existing conditions, especially to our client's knees and back, the same areas our client was claiming to have injured in this accident.
Most people don't know that if you call our personal injury firm now during the hours of 7:30 am to 7 pm daily, Monday through Friday, you will get to speak to someone immediately about your case. If it is after hours or on the weekend, we will phone you back as soon as we hear the facts of your case, so make sure to leave sufficient information on our answering machine/voicemail. Your consultation is free and you will not have to come into our office unless we let you know that we feel that we can handle your case. And if you have serious injuries and are unable to come to our office, we will send someone to you, whether you are home, or in the hospital.
Also, we work on a contingency fee basis, meaning that if we don't obtain money for you for your injuries, then you will not be charged any attorney fees or costs. If we obtain a monetary recovery for you for your case, our fee is a percentage of the recovery. The percentage varies on what stage of the litigation the case is, and whether it is settled before filing suit, or after, and whether there was the necessity of any appeal(s).
If you are wondering how much your case is worth, the truth is we won't be able to tell you right away. Personal injury cases are unique. We have to see how you do in your recovery. Some people improve much more than expected, other people have worse physical outcomes than what we originally would suspect and guess.
Some cases (usually the more serious, such as surgeries and broken bones), require filing a lawsuit and heading towards court, and can take longer to settle, while others can be solved within months, usually a minimum of nine months. In addition, your injuries and how well you recover are taken into consideration. Some people suffer traumatic brain injury or paralysis, while others suffer from chronic neck and back pain. The extent of your injury and how it affects your daily life, including your ability to go back to work, and whether you are doing daily activities such as going to the gym (or are very restricted), and taking care of your children (if you have) are all factored into our determination of the value of your personal injury case.
If you were struck by a car, truck, bus, or any other vehicle while riding your bike, you might have a personal injury case. Call us for any type of case. Our job is to do our best to obtain compensation for those who were injured by someone else's negligence.
---
Call our office now, toll free at (954) 833-1440 for your free consultation.
---
Why Hire Our Firm? What You Can Expect From Us
Always Available for You

If you don't have a way of getting to our office, we will come to your home or hospital.

Board Certified Lawyer

We have the only active board certified civil trial lawyer in Northwest Broward County.

More Than 40 Years of Experience

We have a proven track record of success in accident cases over 4 decades.

Our Results Don't Lie

We've had more than 30 cases that have settled or resulted in jury verdicts of one million dollars or more.

No Fee If No Recovery

We work on a contingency fee, so we only get paid if you get paid.
Schedule Your Free Consultation Today! Contact Us Today