Slip and Fall
Lauderhill Slip and Fall Accident Lawyer
Attorneys Helping Fall Accident Victims in Broward and Throughout South Florida
Lauderhill, Florida: If you have been injured in a fall accident, it is important to seek an experienced attorney for your case. Our firm has been representing victims of fall accidents for over 40 years, and knows the appropriate steps to take after your accident. We have handled at least 4 appeals in slip and trip and fall accident cases, making new law in the State of Florida in all of those cases. Since every personal injury case is unique, it is critical to hire an attorney that is knowledgeable and has an established strategy for pursuing your case. Critically, we have the financial ability to spend what the insurance companies can spend. Many of these cases actually require an outlay of $50,000.00 or more of cash in order to take good cases to trial. On those best cases, we are willing to spend that much or more, in order to increase our chances of success. Call now to see if we can assist you.
If we decide to file a lawsuit on your case, we will likely be willing to do a jury simulation to see what prospective jurors think about the value of your case. In fact, we have separately formed a company, called Case Evaluation, Inc., which is specifically designed to evaluate cases, not only for you, but for other law firms.
Our client slipped and fell on layer of mildew in this condominium walkway.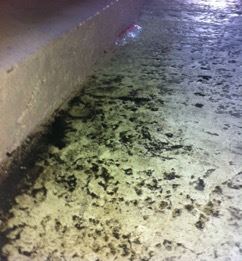 We are very creative in developing theories and themes regarding how to win (or settle) fall injury cases. For example, we may have been the first law firm in this state to win a case on the 'grease-trekking' theory, which is where in restaurants, grease falls on the floor, and then is trekked out on employees' feet onto the floor where customers walk. Women in high heels are most likely to 'go down'. We handled our first case with this theory in 1987, and this case, TGI Friday's vs. Dvorak, ultimately made its way to the Florida Supreme Court. Our law firm is proud to have had the $248,000.00 jury verdict upheld by the Fourth District Court of Appeal, and then to have ultimately made the law in this case regarding the opposing party having to pay their oppositions attorneys fees under certain circumstances. The whole process of this case took more than eight years. It culminated with Mrs. Dvorak's family receiving more than the $248,000.00 jury verdict after Mr. Cytryn successfully argued the case in the Florida Supreme Court.
Dan Cytryn, the founding attorney of the law firm, has lectured at many attorney organizations pertaining to slip and fall accidents and other topics regarding personal injury. Mr. Cytryn is a Board Certified Civil Trial lawyer, a title that only a little less than 1 % of lawyers have in Florida. He has handled more than 100 jury trials and more than 40 appeals. In addition, Mr. Cytryn is AV rated by Martindale Hubbell and has a rating of 10 on Avvo, the highest rating a lawyer can attain. Readers are encouraged to review what other lawyers think about Mr. Cytryn and client testimonials regarding our firm's staff and services.
Trip and Fall Accident Attorney in Lauderhill
The majority of people want to know as quickly as possible if they have a case. Fortunately, our firm offers a free consultation over the telephone or in person where you can discuss the details of their case with our intake specialists. After your consultation, we will do our best to let you know the same day if we will be able to help you with your case. Once we take your case, we will make an appointment at your convenience to meet with an attorney. We know that you want to get the legal process started the same day as your consultation; therefore, we always have an attorney or representative available to meet with you at our office. If you are hospitalized, have no transportation, or are seriously injured, we will come to your home or hospital.
At the Law Offices Cytryn & Velazquez, P.A., one of our main priorities is to communicate with you in a timely and effective manner. For that reason, we assign case managers to update you throughout your case. We encourage you to call and speak with your case manager any time you are confused or have immediate questions or concerns regarding your case. We understand that clients have busy schedules, therefore, we communicate with you through email and correspondence as well.
In Florida, there is a statute of limitations for pursuing fall accident cases; therefore it is important to find an attorney as soon as possible after your accident. If you or someone you know has been involved in a fall accident due to a third party's negligence, you may be able to have a case with us. Be sure to review our results from past cases that we have handled.
---
Call now toll free at (954) 833-1440 and speak with one of our representatives immediately about your case during your free consultation.
---
Why Hire Our Firm? What You Can Expect From Us
Always Available for You

If you don't have a way of getting to our office, we will come to your home or hospital.

Board Certified Lawyer

We have the only active board certified civil trial lawyer in Northwest Broward County.

More Than 40 Years of Experience

We have a proven track record of success in accident cases over 4 decades.

Our Results Don't Lie

We've had more than 30 cases that have settled or resulted in jury verdicts of one million dollars or more.

No Fee If No Recovery

We work on a contingency fee, so we only get paid if you get paid.
Schedule Your Free Consultation Today! Contact Us Today