Slip and Fall
Lauderdale Lakes Slip and Fall Accident Lawyer
Trip and Fall Lawyers for Lauderdale Lakes
Slip and fall accidents in Lauderdale Lakes happen when negligent property owners fail to keep up with building codes and other regulations required by law. If you have been injured in a fall accident, our office can help you file a claim. Our founding lawyer, Dan Cytryn specializes in handling both slip and trip and fall accidents, and fall accident cases of any kind. According to the book, Falls Aren't Funny, (and we agree), the following are common factors contribute to a slip and fall accident case:
Walkway surfaces
Improper floor maintenance procedures
Walkway hazards
Slopes and elevations
Walkway transitions
Mats and rugs
Footwear (type and fit)
Lighting (visual hazards)
Stairway design
Distractions (displays, advertisements)
Walkway hazards and improper identification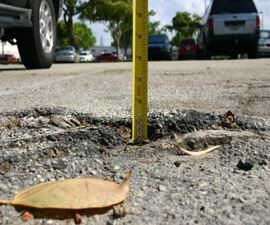 Pictured Above: Elevated asphalt caused by a tree root which caused our client to trip and fall.
Our personal injury firm has been representing slips, trips, and falls accident victims for over 40 years. Attorney Dan Cytryn has handled cases against well known companies, restaurants, and corporations such as TGI Fridays, Road House Grill, Target, Wal-Mart, Walgreens, Publix, the Sawgrass Mall, the Coral Square Mall, multiple gas stations, bj's restaurant, and many other places and entities throughout the State of Florida..
One of our firm's greatest priorities is to ensure that our clients are receiving personal service. Our firm has accomplished this by limiting the number of cases we take. Mr. Cytryn's extensive experience paired with his knowledge in personal injury law has allowed him to focus on serious injury cases.
Hiring a Slip and Fall Lawyer in Lauderdale Lakes
If this is your first time filing an injury claim, our firm recommends doing research on personal injury firms. Do not base your decision on an attorney simply because he/she is located in your city or is close to your home.
Not sure of what to look for in an attorney? Begin by checking to make sure your prospective attorney only handles personal injury cases. Attorneys that handle different areas of law in addition to personal injury are not recommended because they may lack the experience to properly handle your Lauderdale Lakes fall accident case.
Next, be sure your attorney is ethical and is in good standing with the Florida Bar. You may look for this by simply typing your lawyer's first and last name in the member search on the Florida Bar website. The Florida Bar lets you know whether your attorney has been disciplined for misconduct within the past 10 years.
Once you have verified your attorney is ethical, look for years of experience, awards and recognitions, and a record of previous results for cases similar to yours. Attorney Dan Cytryn has been recognized as a Super Lawyer* from 2010 to 2013 and was part of Florida Trend's Legal Elite for the year 2011.
In addition, Mr. Cytryn is a member of the American Board of Trial Advocates (ABOTA), a nationwide invitation-only organization of 6,000 trial attorneys. He has also been an E.A.G.L.E. for the Academy of Florida Trial Lawyers, now known as the Florida Justice Association, for over 20 years and is a frequent fundraiser for the organization.
Our firm does not charge you for a consultation to discuss your slip/trip and fall case. In addition, we work on a contingency basis, which means you are not charged any fees or costs unless we obtain a successful recovery for your case.
---
Call the Lauderdale Lakes slips, trips, and fall lawyers now toll free at (954) 833-1440 for your free consultation.
---
Why Hire Our Firm? What You Can Expect From Us
Always Available for You

If you don't have a way of getting to our office, we will come to your home or hospital.

Board Certified Lawyer

We have the only active board certified civil trial lawyer in Northwest Broward County.

More Than 40 Years of Experience

We have a proven track record of success in accident cases over 4 decades.

Our Results Don't Lie

We've had more than 30 cases that have settled or resulted in jury verdicts of one million dollars or more.

No Fee If No Recovery

We work on a contingency fee, so we only get paid if you get paid.
Schedule Your Free Consultation Today! Contact Us Today