Car Accidents
Lauderdale Lakes Car Accident Lawyer
Broward County Lawyers Handling Injury Cases Throughout Florida
Lauderdale Lakes, Florida: Our law firm has handled numerous accident and injury cases throughout Florida. If you have been significantly injured in a car accident in Lauderdale Lakes due to another person's negligence, we understand this is a difficult time for you and your family. You might be out of work for an indefinite amount of time and struggling to pay your monthly bills. For this and many other reasons, it is essential for you to find an experienced car accident lawyer to handle your case. Dan Cytryn, the head attorney and founder of the Law Offices Cytryn & Velazquez, P.A. has helped car accident victims Lauderdale Lakes and other surrounding South Florida cities for over 40 years and wants to help you after your car accident.
---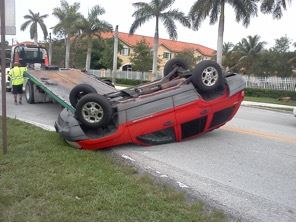 Call Now to See If We Can Assist You With Your Case: (954) 833-1440
---
Mr. Cytryn only takes a limited amount of cases. This allows the firm to concentrate on our clients and provide them with the personal attention they deserve. It is our top concern to provide people like you whom we represent with personal attention. We want our clients to be able to speak to someone any time they have an inquiry or would like to know what is going on in their case, which is why we assign case managers. The case manager is responsible for being available to the clients that are assigned to them, updating clients on any movements going on in their case, and following up on the client's recuperation.
Car Accident Lawyers in Lauderdale Lakes
Our personal injury firm works on a contingency fee basis, meaning you will not owe anything unless the attorneys are able to obtain recovery for your case. In other words, the attorney gets a percentage of what the case resolves for. If you're wondering what your case is worth, the most honest answer we can give you is that it is very difficult to determine a dollar amount, especially early on in the case. There are many factors that come into play with the value of your case, most of which can only be determined with time.
If you have never filed a claim for an auto accident, you may find it helpful to review our free accident guide, which can be downloaded easily by filling out the form provided on the link. The guide discusses 10 mistakes that can destroy your accident case, 15 questions that should be asked before hiring an attorney, and 7 factors that set us apart from other personal injury law firms. Reading this guide will help you when you are ready to make the decision of hiring an attorney.
A lot of people that have been injured in a car accident do not know the steps to take to file a claim. The attorneys at the Law Offices Cytryn and Velazquez, P.A. will walk you through the entire process. After we have informed you that we can handle your case, you will have your first visit with one of our attorneys. During your visit, you will have the opportunity to discuss any questions or concerns you might have regarding your new accident case. Additionally, the attorney will provide you with important documents and explain the strategy that we will be used for your particular case.
---
Call our office now toll free at (954) 833-1440 for your free consultation, and discuss the details of your accident with one of our intake specialists. We will do our best to get back to you the same day to let you know if we can handle your case.
---
Why Hire Our Firm? What You Can Expect From Us
Always Available for You

If you don't have a way of getting to our office, we will come to your home or hospital.

Board Certified Lawyer

We have the only active board certified civil trial lawyer in Northwest Broward County.

More Than 40 Years of Experience

We have a proven track record of success in accident cases over 4 decades.

Our Results Don't Lie

We've had more than 30 cases that have settled or resulted in jury verdicts of one million dollars or more.

No Fee If No Recovery

We work on a contingency fee, so we only get paid if you get paid.
Schedule Your Free Consultation Today! Contact Us Today