Slip and Fall
Coconut Creek-Slip and Fall Accident Lawyer
Trip and Fall Lawyers-Coconut Creek Accidents
The founder of our law firm, Dan Cytryn, is a specialist in slip and fall and trip and fall accident cases. He has handled these types of cases in the Coconut Creek and South Florida area now for over 40 years. In one trip and fall case in Margate, a city bordering Coconut Creek, Mr. Cytryn was able to settle the case for more than $1.5 million dollars total after an attorney in Sunrise Florida was unable to get anything accomplished in handling the case for four years. For close to 15 years, Florida had the best laws pertaining to slip and fall accidents. To put it simply, if a foreign substance was on the floor, the case would go to a jury trial to see if there was negligence by the property owner. However, about 2 years ago, the laws were changed to go back to reactionary laws that were around almost 20 years ago. Now, the individual involved in the fall accident must prove how the substance got on the floor, how long it was on the floor and other factors as well.
In addition, you must show that either the property owner created the condition or that the substance was on the floor long enough for the owner to have known about it and had sufficient time to clean it up.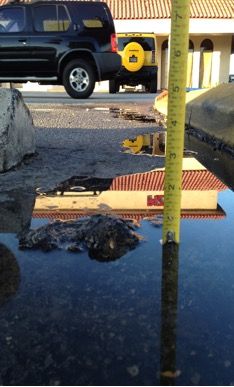 Our client tripped and fell over a raised portion of asphalt and we were able to get her a nice settlement.
Negligence can also be proven by showing that there are repetitive instances of fall accidents due to condition of the floor surfaces. In previous litigation cases that we have filed a lawsuit on, we have been successful in proving this by administering an in depth discovery and have made excellent law in Florida (which is currently on the books and continues to be good law).
According to the Consumer Product Safety Commission, floors and the materials used to make flooring contribute to more than 2 million fall injuries each year. Coconut Creek property owners are responsible for maintaining clean floor surfaces, selecting floors that are slip resistant, using the appropriate cleaners to avoid slippery surfaces, using hazard signs when there are spills, and repairing steps, loose or broken tiles, or any other necessary reparations.
Unfortunately, property owners do not always follow through with building codes or safety mechanisms, therefore, they are often sued for their negligence. If you have been injured in a slip or trip and fall accident due to a property owner's negligence, you might be able to file a claim with our personal injury firm. We have handled cases against big name restaurants such as TGI Fridays and Applebee's, supermarkets, convenience stores, and many other kinds of establishments.
For example, we handled a case in Broward County involving an elderly eighty something year old gentleman which was purchasing shoes at Just for Feet (years ago in the Sawgrass Mall). When our client went to try on shoes, he noticed there was no place to sit to try them on. He asked a sales clerk where to sit, and was told to use the steps near the entrance of the store. When the gentleman was finished trying on shoes, he fell down a flight of 3 stairs, causing him to suffer from a broken hip. One week before trial, the defendant's best offer was $29,000. After trial, the defendant store was required by the jury to pay 90% of $300,000 for our client's case, a total verdict of $270,000.00 for his broken hip injury.
Hiring a Slip and Fall Lawyer in Coconut Creek
Our Coconut Creek trip, slip and fall lawyers are prepared to take on your case. We have the financial resources necessary to front any costs such as hiring the best experts and investigators for your accident. An attorney with limited resources may be unable to handle your case properly such as taking your case to trial, or doing a jury simulation, both of which are costly.
A jury simulation is when a company, hired by the plaintiff's attorney, sets up a group of people who could be prospective jurors in your county. The attorney explains the facts of the case, including the injuries. Afterwards, the jurors are placed into two groups and deliberate. Through this process, we are given insight on what a real jury might do with the case.
Attorney Dan Cytryn, the founder and head attorney at the Law Offices of Cytryn & Velazquez, P.A., has handled close to 100 trials and more than 20 appeals. In addition, Mr. Cytryn does a jury simulation for any case that is going to trial. Our firm knows that in order to successfully prepare for trial, a jury simulation is essential.
There is no wait time to speak with an intake specialist from our firm and we will take our time to get the details of your accident and how it occurred.
---
Call our Coconut Creek slip, trip, and fall lawyers now toll free at (954) 833-1440 for your free consultation.
---
Why Hire Our Firm? What You Can Expect From Us
Always Available for You

If you don't have a way of getting to our office, we will come to your home or hospital.

Board Certified Lawyer

We have the only active board certified civil trial lawyer in Northwest Broward County.

More Than 40 Years of Experience

We have a proven track record of success in accident cases over 4 decades.

Our Results Don't Lie

We've had more than 30 cases that have settled or resulted in jury verdicts of one million dollars or more.

No Fee If No Recovery

We work on a contingency fee, so we only get paid if you get paid.
Schedule Your Free Consultation Today! Contact Us Today