Coconut Creek Motorcycle Accident Lawyer
Personal Injury lawyers with experience in Motorcycle Brain Injury cases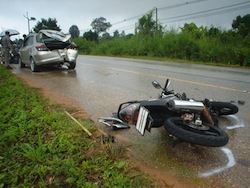 The common misconception about motorcycle drivers is that they are usually at fault in collisions due to their reckless driving, when in fact; vehicle drivers cause most of the accidents with motorcycles. According to a Sun Sentinel article, the escalating numbers of motorcycle crashes in South Florida are largely due to distracted vehicle drivers on their cell phones.
Further the article reports a 10 year analysis of motorcycle crashes in Florida conducted by the University of South Florida, found that 60 percent of the time, motor vehicles are responsible for collisions with motorcycles.
If you have been involved in a motorcycle accident in Coconut Creek due to a distracted vehicle driver, you might be entitled to file an injury claim with our firm. Before you make the decision to hire a Coconut Creek motorcycle accident attorney, be sure to check for the following information in your prospective attorney's website:
Years of experience practicing personal injury law
Court room experience
Honors, awards, and recognitions
Reputation in the legal industry
Professional organizations he/she belongs to
Track record of previous verdicts and settlements
Hiring a Motorcycle Accident Lawyer in Coconut Creek
Attorney Dan Cytryn's 40 years of experience handling personal injury claims has made him a reputable and recognized attorney in Broward, Miami, and Palm Beach counties. In fact, Mr. Cytryn is a Board Certified Civil Trial Lawyer, a title only held by a little more than 1% of attorneys in the state of Florida.
For an attorney to become a Board Certified Civil trial attorney, he/she must possess trial experience, recognition from other attorneys, and a number of other requirements set by the Florida Supreme Court.
Dan Cytryn's partner, Edgar Velazquez, has been working with the firm for more than 8 years and has been practicing law for over 13 years. He is bilingual, fluent in both English and Spanish. Mr. Velazquez handles all matters related to motorcycle accident cases from the initial consultation all the way to trial.
Our website provides full profiles of the attorneys at the Law Offices Cytryn & Velazquez, P.A. We encourage readers as well as prospective clients to learn more about the attorneys of our firm to be confident in our skills to represent you.
Coconut Creek Motorcycle Accident Attorneys Offer a Free Consultation!
There is no wait time to speak to a representative and we will take our time to listen to the details of your accident.
Do you want to see what Dan Cytryn grades your insurance company? Mr. Cytryn has personally rated the best and worst insurance companies for personal injury and periodically updates the list based upon the different positions insurance companies take. We like to share our opinions with you so that you can make an informed decision when purchasing insurance coverage.
Are you wondering whether you have a motorcycle accident case? You can call our office now at (954) 833-1440 to speak with someone regarding your Coconut Creek motorcycle injury case.