Slip and Fall
Sunrise Slip and Fall Accident Lawyer
Trip and Fall Accident Attorney in Sunrise Fall Injury
Having handled slip and trip and fall accidents in Sunrise and pretty much every other city in Broward County, the Law Offices Cytryn & Velazquez, P.A. is prepared to help you after your fall accident. Slip and fall accidents are frequently caused by spills on the floors or slippery surfaces. Other times, unexpected objects, cables, cords, or uneven floors in walkways result in trip and fall accidents. If your fall accident occurred due to negligence of a property owner, you may have a case that our firm can represent you for. If we take on your case, we will always do our best to get you the best result we are capable of. Many of these cases, especially those that we file suit on, require a substantial outlay of cash by our law firm. If your case merits it, we are willing to front those costs to get you what we feel is the best possible settlement, or, even go to court, if necessary.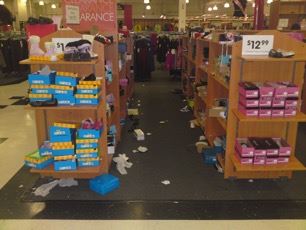 Our client slipped and fell on a slippery piece of paper at this shoe store.
For example, we handled a case years ago, in the city of Sunrise at the store, Just for Feet which was in the outskirts of the Sawgrass Mall. Our client was shopping for shoes when he decided to try on a few pairs to see which ones he would purchase. The store did not have benches, chairs, or any kind of seating to try on shoes, therefore, he was told to use the steps located in front of the store. After he finished trying on shoes, our client stood on the steps to tie his shoes. When he completed tying them, he either forgot that he was on the steps or hit a box of shoes left on the stairs as his foot went backward. This caused him to fall down a flight of 3 stairs and consequently suffered a broken hip. One week before trial, the defendant's best offer was $29,000. After trial, the defendant store was found 90% negligent and the jury awarded $300,000 for our client's case, which was a net judgment of more than a quarter million dollars entered for this 86 year old gentleman.
Hiring a Fall Accident Lawyer in Sunrise
Are you worried about the expense of hiring a personal injury attorney? At the Law Offices Cytryn & Velazquez, P.A., we work on a contingency basis, meaning you do not pay fees or costs, if we do not attain recovery on your behalf.
Additionally, our firm offers a free consultation for your accident case. Our intake specialists will discuss the details of your case with you and review the information with an attorney. If our firm determines we can help you with your case, we will set up a meeting at your convenience to meet with a lawyer. Are your injuries preventing you from coming in to meet with an attorney? We can have an attorney or representative come to your home or hospital if we feel you might be able to have a case with our firm.
Dan Cytryn, the founding attorney of the firm, has lectured at several attorney organizations on many topics pertaining to personal injury cases. Further, Mr. Cytryn is a Board Certified Civil Trial lawyer, a title that only a little less than 1% of attorneys have. To learn more about Mr. Cytryn's qualifications and the other attorneys of the firm, visit our attorney profile pages. Also, we recommend reading what previous clients have said about Mr. Cytryn and his staff.
---
If you have been involved in a fall accident due to a third party's negligence, call now at (954) 833-1440 for your free consultation.
---
Why Hire Our Firm? What You Can Expect From Us
Always Available for You

If you don't have a way of getting to our office, we will come to your home or hospital.

Board Certified Lawyer

We have the only active board certified civil trial lawyer in Northwest Broward County.

More Than 40 Years of Experience

We have a proven track record of success in accident cases over 4 decades.

Our Results Don't Lie

We've had more than 30 cases that have settled or resulted in jury verdicts of one million dollars or more.

No Fee If No Recovery

We work on a contingency fee, so we only get paid if you get paid.
Schedule Your Free Consultation Today! Contact Us Today