Slip and Fall
Plantation-Slip and Fall Accident Lawyer
Trip and Fall Lawyers in Plantation
According to the National Floor Safety Institute, falls are responsible for more than 8 million emergency room visits, which makes falls the leading cause of visits for hospital emergencies. If you have been to the hospital as a result of a slip or trip and fall accident due to a property owner's negligence, any lawyer in our firm may be able to help you obtain compensation for your Plantation slip, trip, and fall case..
Plantation property owners are responsible for maintaining their premises safe of slip/trip and fall hazards. Unfortunately, many do not follow safety procedures and are inevitably sued for their negligence. Our firm has handled cases against many large name companies and corporations including TGI Fridays in Plantation and Coral Springs locations, Just for Feet, K-Mart, Wal-Mart, Publix, Target, Walgreens, Applebee's and many other restaurant and landowners.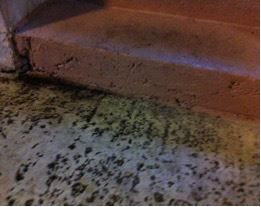 Pictured Above: Mildew in a walkway of an apartment complex that caused our client to slip and fall.
The case we handled at the TGI Fridays in Plantation was pertaining to a slip and fall accident. Mr. Cytryn convinced the appeals court that it was wrong of the trial court to exclude testimony from current and former employees about the defendant's "negligent mode of operation" (using hard floor surfaces such as wood or tile where there were frequent spills and employees trekked grease onto the floor from the kitchen). Mr. Cytryn has been an advocate for the use of non-slip surfaces in public places, and the use of non-slip flooring materials. Restaurants for example, should be using carpeting instead of smooth slippery surfaces, as spills of all sorts are foreseeable in that type of environment..
Hiring a Slip and Fall Lawyer in Plantation
Although most fall accidents occur at restaurants and retail establishments, these accidents are not limited to those places. In fact, they can happen in hotels, office buildings, convenience stores, transit terminals, nursing homes, construction sites, and other industries. Many people question whether or not they have a case due to the location of the accident. However, if you know your accident occurred due to someone's negligence, it is worth discussing your case with a personal injury attorney.
Our personal injury firm offers a free consultation where you can discuss your accident with one of our intake specialists. Even if you are not sure if you have a case, we will listen to the details of your accident and let you if we are able to represent you. We recommend contacting an attorney as quickly as possible after your fall accident. Unlike other accidents, property owners have the advantage repairing their negligence, leaving you without evidence for your case.
Our Plantation trip, slip, and fall lawyers will send out an investigator to the location of your accident and will take photographs to preserve the scene. Additionally, we will hire experts if necessary to test the materials used to construct the surface. Each case requires specific procedures relevant to your case, therefore, you need an attorney that has the financial resources to properly handle your case.
Often, for catastrophic injury cases, the attorney is required to front a substantial amount of money to hire the best experts and investigators for your slip and fall accident case. A good way to tell if your attorney has the appropriate resources is by verifying if he/she has handled cases that have gone to trial, which is a costly procedure.
Attorney Dan Cytryn, the founder and head attorney at the Law Offices Cytryn & Velazquez, P.A., has handled close to 100 trials and more than 40 appeals. In addition, Mr. Cytryn has obtained several six figure verdicts (and settlements) and even a million plus jury verdict (and settlement) in fall cases. To see examples of our firm's results, visit our verdicts and settlements page.
There is no wait time to speak with a representative from our office and we will do our best to let you know the same day of your phone call if we will be able to handle your case.
---
If you or a loved one has been involved in a fall accident in Plantation, call our office now at (954) 833-1440 for your free consultation.
---
Why Hire Our Firm? What You Can Expect From Us
Always Available for You

If you don't have a way of getting to our office, we will come to your home or hospital.

Board Certified Lawyer

We have the only active board certified civil trial lawyer in Northwest Broward County.

More Than 40 Years of Experience

We have a proven track record of success in accident cases over 4 decades.

Our Results Don't Lie

We've had more than 30 cases that have settled or resulted in jury verdicts of one million dollars or more.

No Fee If No Recovery

We work on a contingency fee, so we only get paid if you get paid.
Schedule Your Free Consultation Today! Contact Us Today