Car Accidents
Parkland Car Accident Lawyer
For victims of car accidents, it is crucial to contact a qualified personal injury lawyer convenient to you in Parkland, before the insurance company gets to you. Our firm works to help obtain financial recovery for pain and suffering, medical bills, lost earnings, and other money damages victims of negligence are entitled to. Car accidents represent a very large portion of our cases, but we also handle: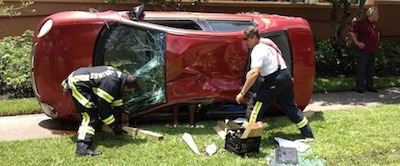 Unfortunately, our firm is very aware of how your life can change after a car accident. Many individuals are hospitalized, suffer permanent injuries, miss work, lose their job, and/or are faced with burdening expenses. We know this is stressful time in your life and would like to help you after your accident. Aside from assisting you to recover compensation for your injuries, our firm is here to assist clients through every step of the legal process, including recommendations to doctors and specialists, all negotiations, including medical bills, and will advise you when it is best to settle your case.
Hiring a Car Accident Lawyer in Parkland
Dan Cytryn, the founder and head attorney of the Law Offices Cytryn & Velazquez, P.A., has over 40 years of experience handling personal injury cases. Mr. Cytryn's main focus for his clients is providing personal service. In his words:
"I am a complete believer in personal service. We are very selective in the cases that we accept, because we want to maximize our efforts on the cases that we have. We do not believe in quantity, and as a result, we are able to provide personal service to the people whom we represent."
When hiring a lawyer, it is crucial to select an attorney who only handles personal injury cases. There are many lawyers that have a different specialty, such as criminal law, and handle personal injury cases on the side. Mr. Cytryn only handles personal injury cases, the majority being car accidents, and his experience and knowledge plays a large role in many successful recoveries for his clients.
We highly recommend researching an attorney's qualifications and experience before making a decision to hire. Mr. Cytryn is AV rated by Martindale Hubbell, the highest rating an attorney can attain. Martindale Hubbell has been rating lawyers for over 100 years, therefore, it is reliable source to guarantee you have an ethical lawyer by your side. In addition, Mr. Cytryn is a Board Certified Civil Trial Lawyer, a title only held by a little over 1% of lawyers in Florida.
Have you been injured in a car accident? Call the Law Offices Cytryn & Velazquez, P.A. today to discuss the details of your case. You will be connected to one of our intake specialists immediately.
---
Call now at (954) 833-1440 for your free consultation.
---
Why Hire Our Firm? What You Can Expect From Us
Always Available for You

If you don't have a way of getting to our office, we will come to your home or hospital.

Board Certified Lawyer

We have the only active board certified civil trial lawyer in Northwest Broward County.

More Than 40 Years of Experience

We have a proven track record of success in accident cases over 4 decades.

Our Results Don't Lie

We've had more than 30 cases that have settled or resulted in jury verdicts of one million dollars or more.

No Fee If No Recovery

We work on a contingency fee, so we only get paid if you get paid.
Schedule Your Free Consultation Today! Contact Us Today