Slip and Fall
Hollywood Slip and Fall Accident Lawyer
Trip and Fall Lawyers handling injury cases in Hollywood and throughout Florida
If you have been injured in a slip and fall accident in Hollywood, you might want to file a claim with an attorney. The process of hiring is relatively simple, as long as you do thorough research on the attorney you are looking to hire. If this is your first time filing a claim, we want you to be prepared to ask the appropriate questions. The following are questions you should ask a lawyer before making a decision to hire:
Do you represent injured individuals or insurance companies?
How long have you been practicing personal injury law?
Are you Board Certified?
Do you have trial experience?
What are your fees?
Are you financially prepared to handle my case?
Do you do jury simulations for cases you go to trial on?
Do you have a record of results for previous clients?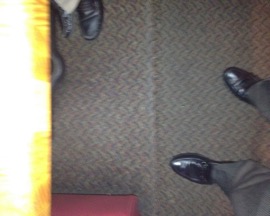 Our client tripped on an elevated booth at a restaurant. The picture is actually showing two different levels.
Hiring a Slip and Fall Lawyer in Hollywood
Hollywood fall accident lawyer, Dan Cytryn, has been handling personal injury cases for over 40 years and has handled close to 100 trials and more than 20 appeals. Mr. Cytryn's extensive experience in personal injury law has allowed him to share his knowledge with other lawyers. He has lectured multiple times at attorney organizations on various topics including slip and fall cases.
Dan Cytryn is a Board Certified Civil Trial lawyer, a title that requires trial experience, peer recognition, and a series of other factors required by the Florida Supreme Court. He was also part of the 2011 Florida Trend's Florida Legal Elite.
No Fees or Costs if No Recovery!
At the Law Offices Cytryn & Velazquez, P.A., your consultation is free and you can speak to someone right away about your case. In addition, you will not be charged any costs or fees unless we are able to get recovery for you case.
Attorney Dan Cytryn has obtained several six-figure and even a million plus jury verdict in fall cases. For example, we obtained a million plus jury verdict in Miami-Dade County. The case involved a woman who was at a movie/television studio when she tripped and fell over a bump on a doorway. After a thorough investigation, Mr. Cytryn hired an architect expert, who determined the cause of the accident was due to a violation of building codes and other standards. As a result of her accident, the 74 year old victim sustained serious injuries. The jury awarded $1.9 million, and found the movie studio 84% responsible for the trip and fall.
If you hire an attorney who does not have the financial means to handle your slip and fall case or does not want to spend the money, it may reduce your chance to win. In fact, you might actually lose because of the attorney you hire. In some situations, a case is only as good as the lawyer you hire.
For some slip and fall cases, we have spent close to a hundred thousand dollars. Your attorney must have the financial ability to front out-of-pocket costs to do the best for their client. So if we take your case, we are not looking to save money on experts. We are looking to spend our money getting the best experts available out there to try to prove and win your case.
To see examples of other settlements we have attained for previous clients, visit our results page. Also, be sure to read client reviews regarding our attorneys, staff, and the services rendered by our firm.
---
If you or your loved one has been injured in a fall accident in Hollywood, call our office now at (954) 833-1440 for your free consultation.
---
Why Hire Our Firm? What You Can Expect From Us
Always Available for You

If you don't have a way of getting to our office, we will come to your home or hospital.

Board Certified Lawyer

We have the only active board certified civil trial lawyer in Northwest Broward County.

More Than 40 Years of Experience

We have a proven track record of success in accident cases over 4 decades.

Our Results Don't Lie

We've had more than 30 cases that have settled or resulted in jury verdicts of one million dollars or more.

No Fee If No Recovery

We work on a contingency fee, so we only get paid if you get paid.
Schedule Your Free Consultation Today! Contact Us Today