Car Accidents
Hollywood Car Accident Lawyer
Personal Injury and Accident Attorney Handling Car Accident Cases in Hollywood, Florida
Hollywood, Florida: Have you been injured in a car accident in Hollywood, Florida. Do you need assistance regarding what steps to take after your car accident in Hollywood? At our personal injury firm, our top priority is to serve you. If you have been injured in a car accident in Hollywood, or anywhere else in Florida, call us now to see if we can assist you, and if your injuries require it, need us to do so, we can come to your home in Hollywood or even right to your hospital room.
Some of Our Services Available to You in Hollywood, Florida
We limit the number and type of accident and injury cases to ensure that you are not just a 'number'.
If you want help with your property damage, we can assist you. We will see if you are entitled to get a rental while your car is under repair and set that up.
If you are immobile or don't have a way of getting to our office, we will have an attorney come to you for your initial visit.
---
Call Now for Immediate Attention: (954) 833-1440
---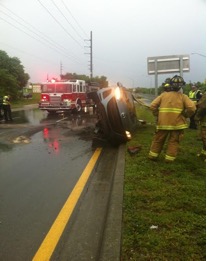 Mr. Cytryn, who overseas the law firm operations and has been a lawyer for over 40 years, will know about the general facts of your case if he is representing you and you come across him walking down the street.
Avvo.com is a nationwide directory of lawyers and includes ratings and reviews of the attorneys as well. Martindale Hubbell is another reliable source because they have been rating lawyers for more than 100 years. An AV-rated attorney by Martindale Hubbell is the top ethical and legal ability rating that can be obtained. If you want more information on an attorney, you can also visit the Florida Bar, which informs you whether an attorney has been disciplined for misconduct in the last 10 years. You do not want a personal injury lawyer who has been disciplined.
Dan Cytryn, the founding lawyer of the Law Offices Cytryn & Velazquez, P.A., is AV rated my Martindale Hubbell and is rated 10 by Avvo, the highest rating a lawyer can attain. Additionally Mr. Cytryn is a Board Certified Civil Trial Lawyer, a title held by only a little less than 1% of attorneys in Florida. To become board certified, a lawyer must have extensive trial experience along with peer references and other standards required by the Florida Supreme Court.
Mr. Cytryn has been handling injury cases for over 40 years and wants to represent you after your car accident. Our personal injury firm only handles a limited number of cases in order to provide clients with the personal attention they deserve. We like to be available for our clients, which is why we assign case managers to be responsible for relaying information and answering questions that clients may have throughout the legal process.
Our personal injury firm encourages prospective clients to learn more about the attorneys of our firm by visiting the attorney profile pages on our website. We also recommend reading previous client reviews to get outside perspectives of our staff and the services provided by our firm. If you're uncertain of what to look for when hiring an attorney, download our free accident guide instantly and get access to 15 questions you should ask before hiring an attorney, 10 mistakes that can destroy your accident case, and 7 factors that make us different from other personal injury firms.
We will not charge you anything unless we can get financial recovery for your case. Our firm has represented countless injury victims and would like to do the same for you. Call now and we will do our best to help you get through this difficult time.
---
Are you looking for an attorney to represent you for your car accident injuries in Hollywood? Call our office now toll free at (954) 833-1440 and speak to one of our representatives regarding your case during your free consultation.
---
Why Hire Our Firm? What You Can Expect From Us
Always Available for You

If you don't have a way of getting to our office, we will come to your home or hospital.

Board Certified Lawyer

We have the only active board certified civil trial lawyer in Northwest Broward County.

More Than 40 Years of Experience

We have a proven track record of success in accident cases over 4 decades.

Our Results Don't Lie

We've had more than 30 cases that have settled or resulted in jury verdicts of one million dollars or more.

No Fee If No Recovery

We work on a contingency fee, so we only get paid if you get paid.
Schedule Your Free Consultation Today! Contact Us Today