The Dangers of Dell Laptop Fires 
A Dell laptop is the alleged cause of a house fire that occurred in Cape Coral, Florida on December 3, 2010. A man in his 70s was rescued from the burning home but died a few days later from his injuries.
The Law Offices Cytryn & Velazquez, P.A. is handling that case and is committed to ensuring fair compensation to the victim's family by having sued the:
Computer manufacturer
Battery manufacturer
Smoke alarm manufacturer
Fire extinguisher manufacturer
And the landlord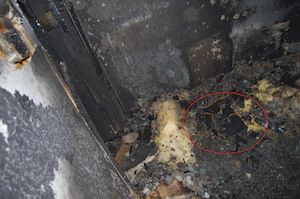 Client's home after a fire that was allegedly caused by the laptop
Additional Reported Dell Laptop Fires
In addition to the Cape Coral incident, over the past several years, there have been other reports of Dell laptops being blamed for battery explosions and house fires.
In 2007, a man in Georgia was home when his Dell laptop "burst into flames," as reported by consumeraffairs.com. No injuries were reported in that incident.
Another 2007 house fire, which destroyed a Maine home, was blamed on a Dell laptop that was recharging on the living room sofa. No one was home at the time of the fire, which was estimated to cause over $100,000 in damages.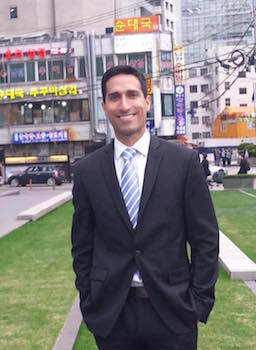 Our attorney Edgar Velazquez, in Seoul South Korea, taking depositions for two days in the Dell laptop computer case where the laptop battery pack caught fire here in the U.S., burned a house down, and killed an 81-year-old man who was living there. Mr. Velazquez was taking the depositions of various employees of the company that manufactured the battery cells
As reported by the Herald Tribune, a South Venice, Florida house fire that occurred in 2006 "may have been sparked by a Dell computer model that was recalled by the company because its battery was a fire hazard." Thankfully no one was injured, but the family lost most of their possessions. That same year, a Dell laptop exploded into flames at a Japanese conference. The laptop was sitting on a table and conference staff moved everyone away to avoid injury.
You or a loved one or friend may have personal experience with a Dell laptop overheating or catching fire. If you have additional information about such an incident with a Dell laptop, please contact our firm today.
Dell Laptop Battery Recalls
In addition to the specific incidents of fire, Dell has issued several laptop battery recalls over the years due to potential fire hazards. In August 2007, Dell was forced to undergo a massive recall of over 4 million batteries. According to pcworld.com, it was "reportedly one of the largest consumer electronics recalls in history."
Additionally, Dell has issued other recalls in the past: 22,000 laptop batteries in December 2005, 284,000 in 2001, and 27,000 in 2000. The Consumer Product Safety Commission (CPSC) has reported that these batteries can overheat, potentially creating a fire hazard. For more information on models affected by these recalls, please visit the CPSC website.
Lithium Battery Recalls For Dell Laptops
More recently, in 2008 the CPSC in cooperation with Dell issued another recall for lithium-ion batteries used in Dell notebook computers. The specific risk with these lithium-ion batteries, according to the recall notice, is that they can overheat which poses "a fire and burn hazard to consumers."
Because of the physical components within the lithium-ion batteries, they can:
Fail
Spark
Short circuit
Or ignite
All of which risks harm to both individuals and property.
The CPSC is the government agency responsible for protecting individuals from personal injury or death caused by consumer products, including laptop computers.
The CPSC maintains a searchable database that can be used to find other examples of Dell laptops allegedly:
Catching fire
Overheating
And causing property damage
Turn To The Law Offices Cytryn & Velazquez, P.A. For Help
If you or a family member has been injured by a defective product, such as a defective laptop battery, it is important to contact an attorney experienced in handling defective product and burn injury lawsuits. An experienced personal injury lawyer will explain the various aspects of your defective product lawsuit and protect your rights throughout the process. Contact our office now at (954) 833-1440 for a free consultation.
The law firm's founder who is the lead attorney on the Dell Cape Coral fire, Dan Irving Cytryn is a Board Certified Civil Trial Lawyer handling injury and accident cases for over 40 years. He has received a 10.0 rating on AVVO, a lawyer rating service, which is the highest rating given for a lawyer. He is also rated the highest ability and ethics rating, "AV," by Martindale Hubbell, a company rating lawyers for more than 100 years. Mr. Cytryn has also been named to the Super Lawyers list from 2010 to 2013 by Florida Super Lawyers magazine.