Motorcycle Accidents
Fort Lauderdale Motorcycle Accident Lawyer
Personal Injury Attorney Handling Motorcycle Accident Cases in ft. Lauderdale
Fort Lauderdale, Florida: If you were injured in a motorcycle accident in Ft. Lauderdale, it's best to speak with a personal injury attorney who has experience handling motorcycle accidents of any kind. The founding lawyer at our firm has handled complex motorcycle accident cases. He's handled cases where the victim was wearing a helmet as well as cases where the victim was not and has achieved successful results. If you or a loved one were involved in a motorcycle accident in Ft. Lauderdale, call us now to see if we can help you. We handle cases that happened in Ft. Lauderdale and all across South Florida.
A Brief Look at Some of Our Services:
We don't charge you to speak with us today about your case and if we can help you, we don't charge anything unless we obtain a successful result for you.
If you don't have a way of getting to our office, we will have an attorney come to your home or hospital in Ft. Lauderdale.
We will do our best to schedule meetings at times that don't conflict with your work schedule.
We will keep you updated throughout your case.
---
Find Out Now If We Can Assist You! Call Now: (954) 833-1440
---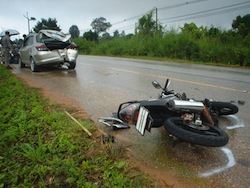 Although helmets provide protection in lower speed impacts, they do not always prevent or reduce brain injury or death in high speed impacts involving angular rotation of the brain. The fact is that even at a speed of a little over 17 miles an hour, a person may still sustain a brain injury depending on how the head hits the ground or any other solid object. Many articles have been published pertaining to the angular rotation of the brain during the impact at higher speeds. However, testing for angular rotation has not yet been adequately developed; therefore, helmet testing is limited to dropping the helmet from a certain height, which only tests for what's called translational forces.
So while it is true that helmets can help prevent brain injury at low speed, the amount of protection at higher speeds is limited when there is an angular rotation in the impact with the ground or solid object. And at very high speeds, a helmet will not prevent brain injury or death no matter how good the helmet is.
We recently represented a young woman who suffered a significant brain injury on her moped here in Ft. Lauderdale in the case, Mary Lenhart as Guardian & Conservator of Abby Chronister v. Christopher Basora, and our main argument was that her brain injury may have not been prevented even had she been wearing a helmet. Legitimate and credible helmet testing experts will agree that brain injury is likely to occur at higher speeds even if the motorcyclist wears a helmet.
Motorcycle Accident Lawyer in Ft. Lauderdale
Many vehicle drivers (and ultimately, potential jurors) are under the impression that motorcyclists are reckless drivers and are therefore at fault for the majority of collisions that occur with motorcycles. However, several studies have proven otherwise. One study conducted by the University of South Florida reports that vehicle drivers are at fault 60 percent of the time when there is a collision with a motorcycle.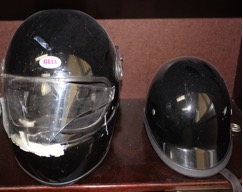 On the left is an example of a helmet that saved our client's life but unfortunately that's not always the case. The helmet was used in a 1986 jury trial.
Further, the study found that the increasing number of motorcycle accidents are due to distracted vehicle drivers that fail to see motorcyclists on the road. In fact, that statistic is backed up by the National Highway Traffic Safety Administration, which reports that 80 percent of all car accidents are due to inattentive driving such as reaching for something, texting, interacting with other passengers and other distractions.
As a result, the Florida Department of Transportation (FDOT) made a campaign for motor vehicle drivers to look twice for motorcycles. Bikers should also be responsible for being conspicuous on the road. For example, it is suggested by the FDOT that motorcycle drivers place reflective stickers on the highest part of their heads, which is the biker's helmet. However, for motorcyclists that do not wear helmets, it is recommended to use reflective vests or reflective patches that can be added to their clothing.
Even if your loved one was not wearing a helmet at the time of his/her collision, call us to determine if we can help you. We have extensive experience handling motorcycle, moped and bicycle accidents. Call now and talk to us today about your situation.
---
If you or someone you know has been injured in a motorcycle accident, due to anybody's negligence or fault, phone our office NOW at (954) 833-1440 for your free consultation.
---
Why Hire Our Firm? What You Can Expect From Us
Always Available for You

If you don't have a way of getting to our office, we will come to your home or hospital.

Board Certified Lawyer

We have the only active board certified civil trial lawyer in Northwest Broward County.

More Than 40 Years of Experience

We have a proven track record of success in accident cases over 4 decades.

Our Results Don't Lie

We've had more than 30 cases that have settled or resulted in jury verdicts of one million dollars or more.

No Fee If No Recovery

We work on a contingency fee, so we only get paid if you get paid.
Schedule Your Free Consultation Today! Contact Us Today