Car Accidents
Dania Beach-Car Accident Lawyer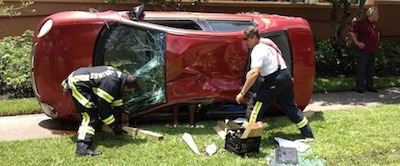 Broward County and Florida statewide injury victims welcome
Some people may be under the impression that hiring a car accident lawyer is costly or requires too much effort and time. At the Law Offices of Cytryn & Velazquez, P.A., we do not charge you anything unless we are able to get financial recovery for your case. To top it off, we can also provide assistance with your property damage at no extra cost, if that is something you would like help with. The head attorney of the firm, Dan Cytryn, has been representing car accident victims for over 40 years.
As an experienced personal injury lawyer, Mr. Cytryn has written many articles for professional publications, including articles that have been featured in local magazines. Additionally, Mr. Cytryn has lectured at many attorney organizations about different practice areas in his field of law. Aside from having extensive experience and knowledge in his field, Mr. Cytryn is the thoroughly involved in the legal community.
Mr. Cytryn was a past president in the Broward County Trial Lawyers Association and was appointed by the President of the Florida Bar to the Florida Bar's Civil Procedure Rules Committee. This committee is responsible for making the rules that govern the procedure for civil court proceedings, which must be followed by all the lawyers and Judges. Dan Cytryn is also a member of the American Board of Trial Advocates (ABOTA), a nation wide invitation-only organization of 6,000 trial attorneys. Visit our attorney profile pages to read more about Mr. Cytryn and the associate attorneys of the firm.
Car Accident Lawyers in Dania Beach
If you have been injured in a car accident in Dania Beach, we would like to help you file a claim. Our firm believes in providing quality customer service, therefore, we only handle a limited number of cases. We value our clients and provide them with personal attention. We assign case managers to work closely with clients in order to keep them informed about their case and to answer any immediate questions or concerns they may have.
If you have never filed a claim before, we want to help you by providing you with fundamental information regarding your accident case. We suggest downloading our free accident guide instantly, which includes 10 mistakes that can destroy your case, 15 questions you should ask before hiring an attorney, and 7 factors that make us different from other personal injury law firms. You can get instant access to this guide by simply typing your name, phone number, and email address into the form provided on our website.
Are you interested in reading what other people are saying about our services and staff? Client reviews can be found on Avvo, a website that provides a directory of attorneys' nation wide and rating scales on them as well. Also read what lawyers have to say about Mr. Cytryn, the founder of the firm.
We have been helping accident victims for over 40 years and have the experience and dedication it takes to help you attain financial compensation for you case.
---
Call our office now toll free at (954) 833-1440 for your free consultation.
---
Why Hire Our Firm? What You Can Expect From Us
Always Available for You

If you don't have a way of getting to our office, we will come to your home or hospital.

Board Certified Lawyer

We have the only active board certified civil trial lawyer in Northwest Broward County.

More Than 40 Years of Experience

We have a proven track record of success in accident cases over 4 decades.

Our Results Don't Lie

We've had more than 30 cases that have settled or resulted in jury verdicts of one million dollars or more.

No Fee If No Recovery

We work on a contingency fee, so we only get paid if you get paid.
Schedule Your Free Consultation Today! Contact Us Today