Car Accidents
Broward County Car Accident Lawyer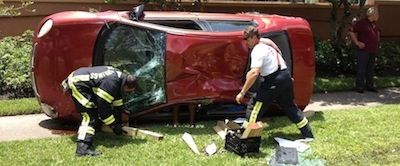 The main cause of car accidents in Broward County is distracted driving and failing to yield the right of way. However, distracted driving is not just a county or state issue, but rather a nationwide problem. According to the Center for Disease Control and Prevention (CDC), everyday 9 people are killed and more than 1,060 are injured due to distracted driving. Distracted driving is any individual attempting to perform another task behind the wheel. Although texting is one of the more dangerous forms of distracted driving, it is not the only one. Examples include grooming or applying makeup, eating or drinking, talking on the phone, and using a navigation system.
Sadly, in addition to car accidents, distracted driving causes many bicycle, pedestrian, and motorcycle accidents. Therefore, as a result of the increased number of accidents due to distracted driving, the Florida Department of Transportation (FDOT) launched the "Alert Today, Alive Tomorrow" campaign in both Broward and Palm Beach counties. The campaign targets the counties with the highest bicycle and pedestrian accidents. Broward County ranks second in the state while Palm Beach County is 5th. The initiative includes educating locals through messages provided on the television, social media, billboards, and enforcement activities.
From the popular airboat Everglades tours to the world visited Seminole Hard Rock Hotel and Casino, it's easy to understand why Broward County is rapidly growing and has become a popular tourist destination. Unfortunately, as the second most populous county in the entire state of Florida, Broward County inevitably has traffic congestion and a large amount of traffic accidents year round. In fact, the latest report by the Florida Highway Safety and Motor Vehicles lists Broward County as the second county with the most crashes in Florida.
Florida lawmakers have also taken initiative to help reduce distracted vehicle driving due to texting. Starting October 1, 2013, texting will be considered a secondary offense in Florida. In other words, the driver must be pulled over for another violation, such as speeding or careless driving. Florida will be the 41st state to impose a ban on texting while driving, however the ban on texting varies from state to state.
Car Injury Attorneys in Broward County
The Law Offices Cytryn & Velazquez, P.A. is a personal injury firm located in the city of Coral Springs in Broward County. The founding attorney, Dan Cytryn has more than 3 decades of experience representing accident victims for traffic accidents including auto accidents, motorcycle/moped accidents, truck accidents, pedestrian accidents, and bicycle accidents. In addition, Cytryn handles slip or trip and fall accidents, nursing home abuse cases, and construction. Our practice areas page provides a complete list of the types of cases we handle.
The firm has 4 personal injury attorneys, two of whom are bilingual, fluent in both English and Spanish.
You will not pay anything unless we collect money for your case from the insurance company or the at fault party.
---
If you are looking for an attorney to represent you for your injuries, call us today at (954) 833-1440 for your free consultation to find out the many different ways that we can help you.
---
Why Hire Our Firm? What You Can Expect From Us
Always Available for You

If you don't have a way of getting to our office, we will come to your home or hospital.

Board Certified Lawyer

We have the only active board certified civil trial lawyer in Northwest Broward County.

More Than 40 Years of Experience

We have a proven track record of success in accident cases over 4 decades.

Our Results Don't Lie

We've had more than 30 cases that have settled or resulted in jury verdicts of one million dollars or more.

No Fee If No Recovery

We work on a contingency fee, so we only get paid if you get paid.
Schedule Your Free Consultation Today! Contact Us Today